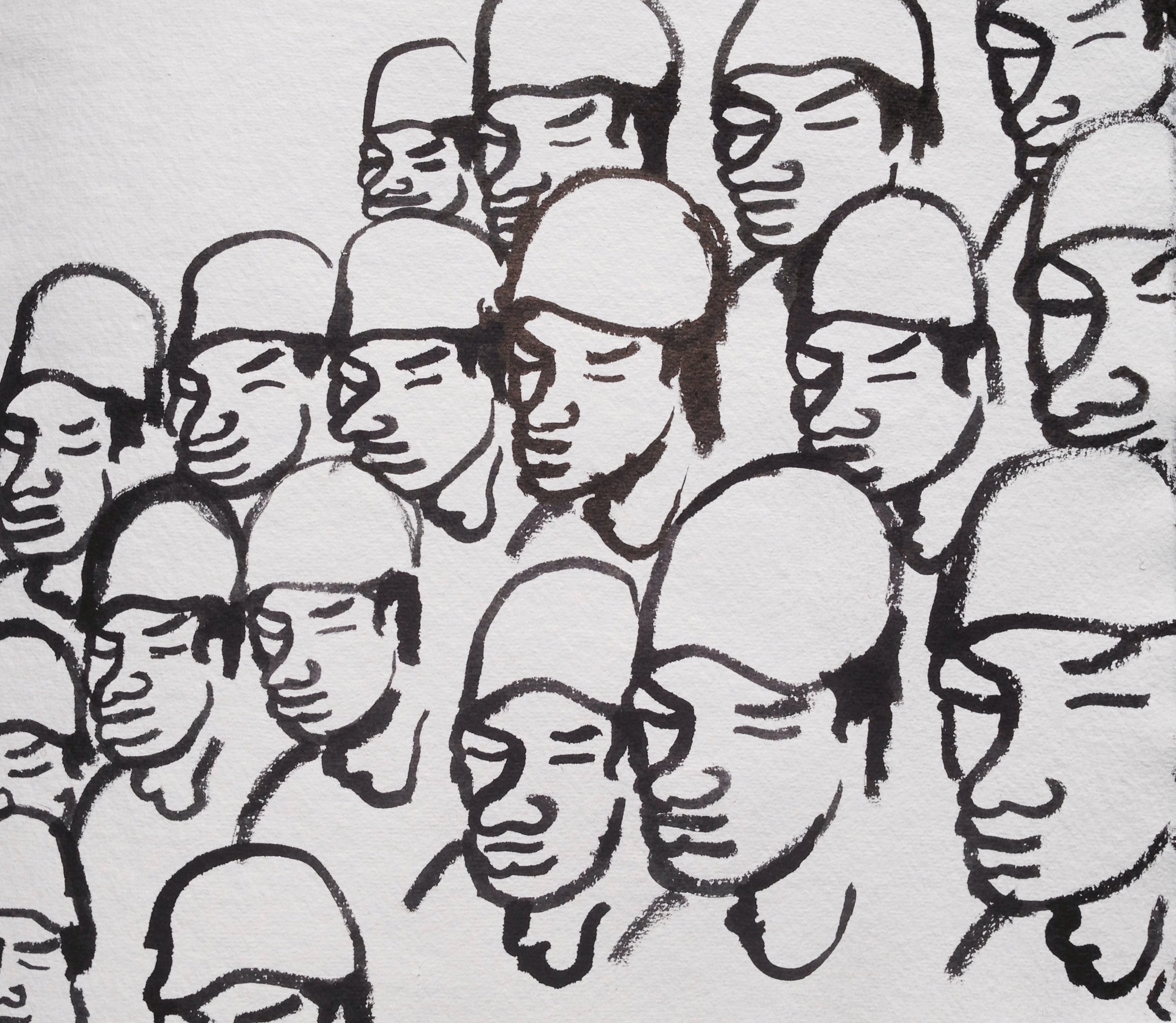 Refugee 0.0
Refugee 0.0 ii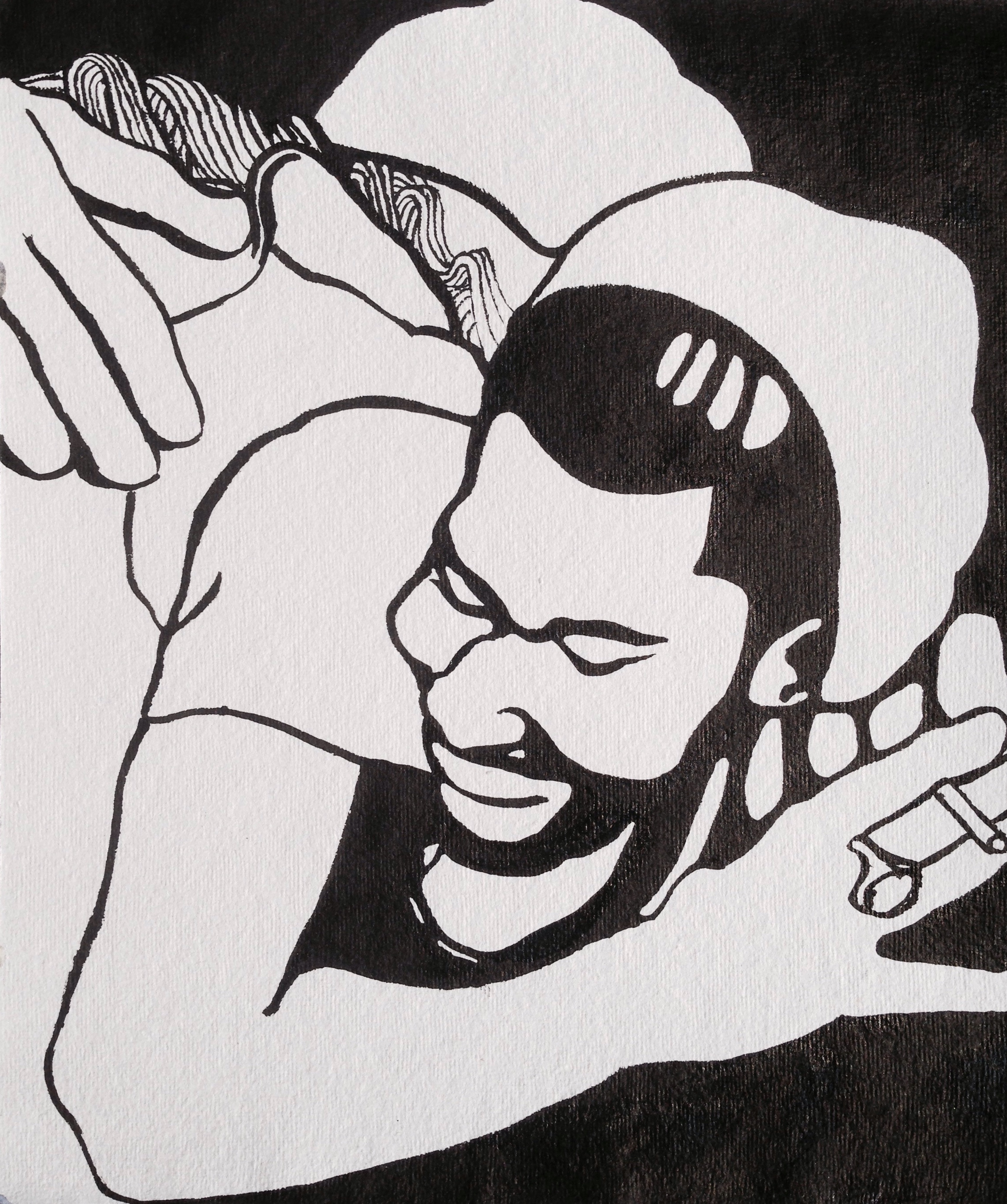 Hugs for humans.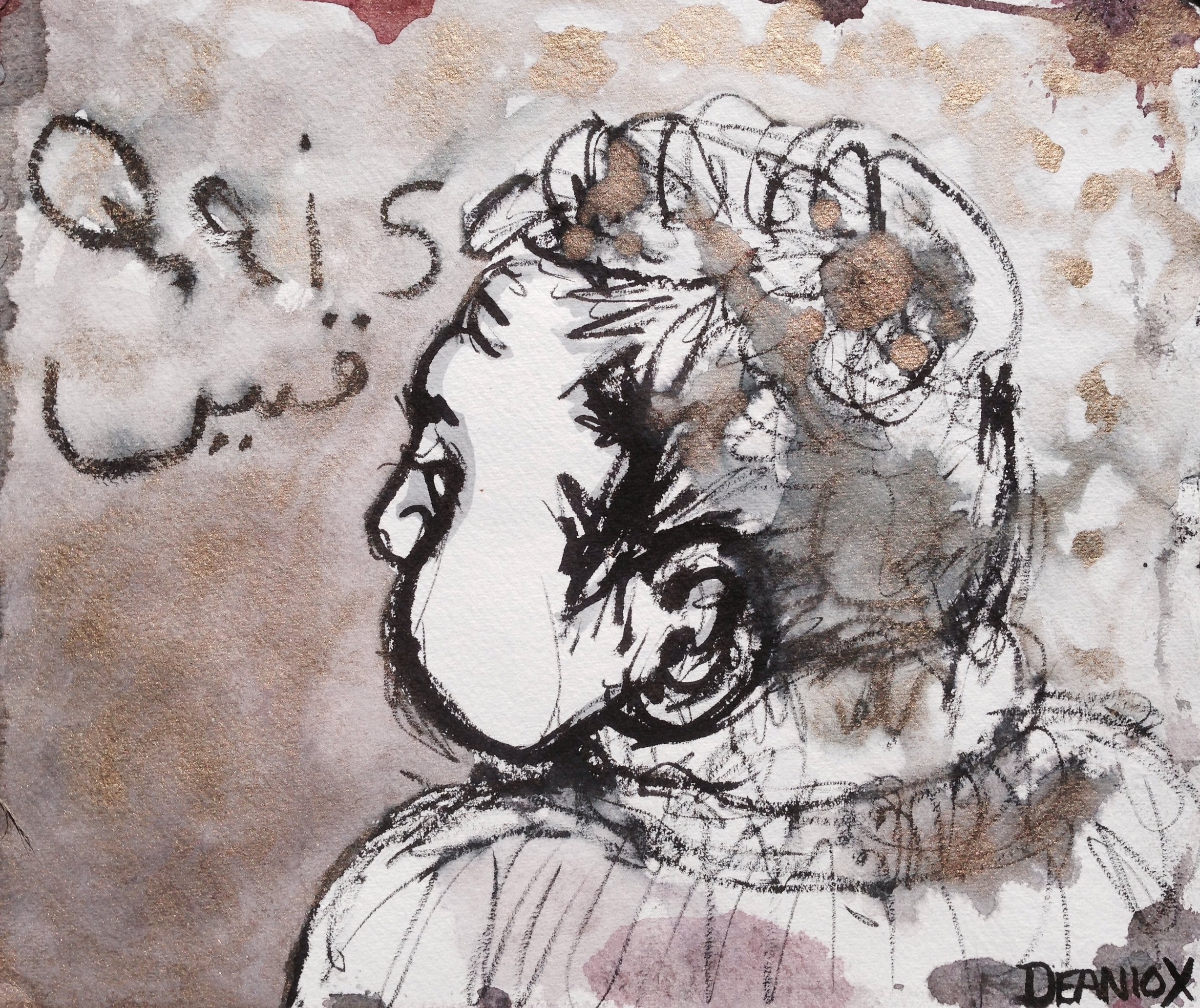 Qais.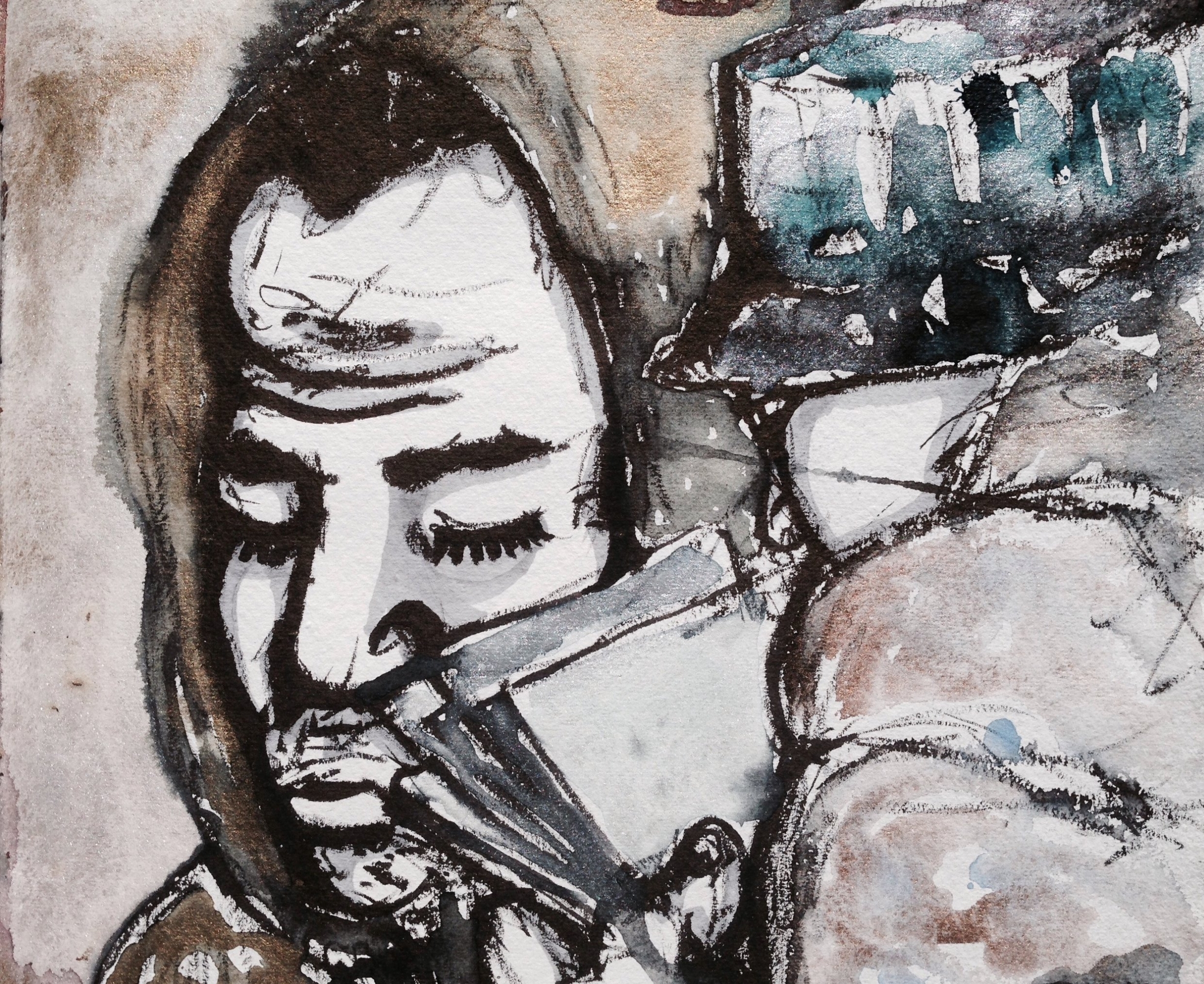 Chattin'.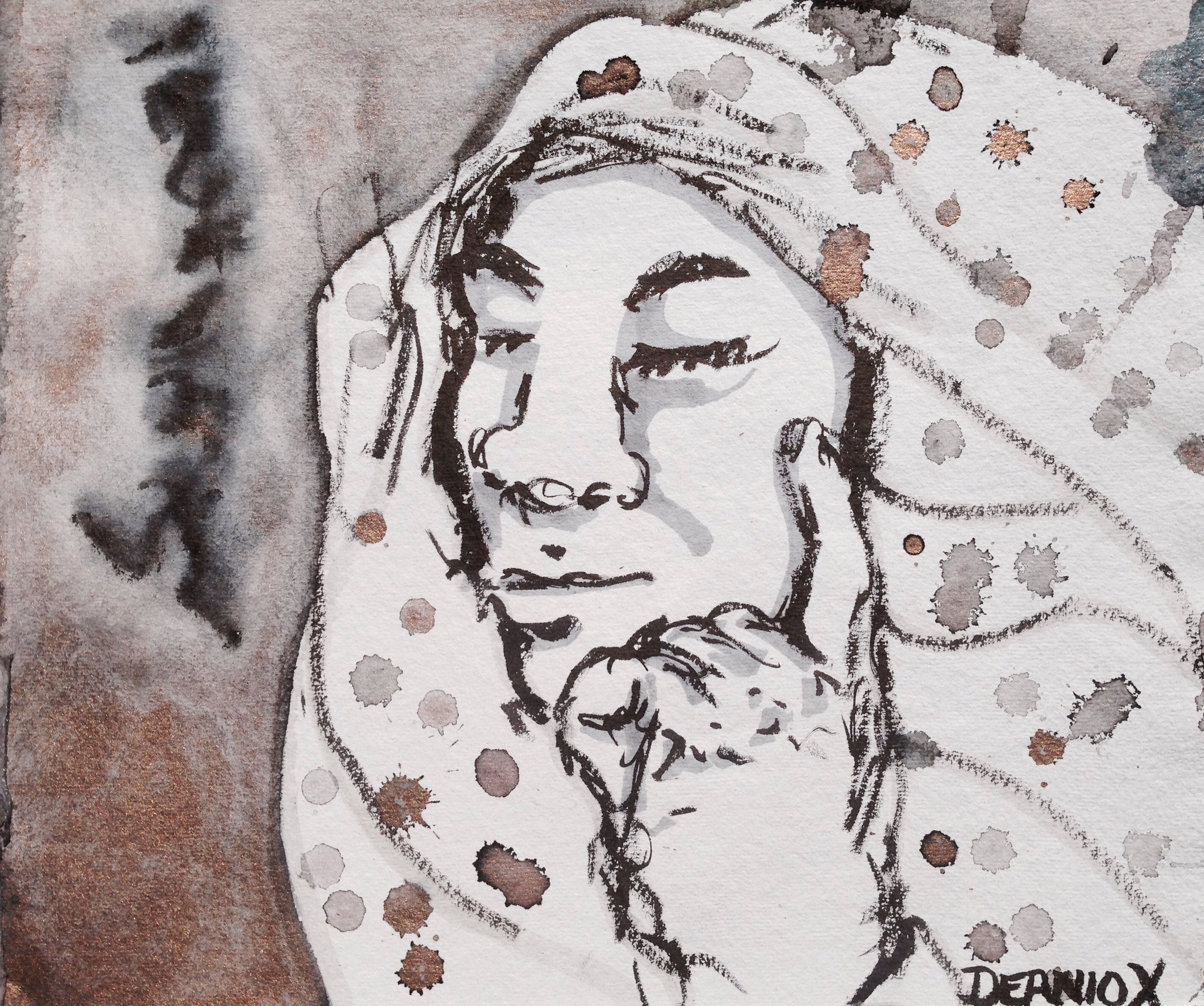 Suleiman.
Man with melted hut.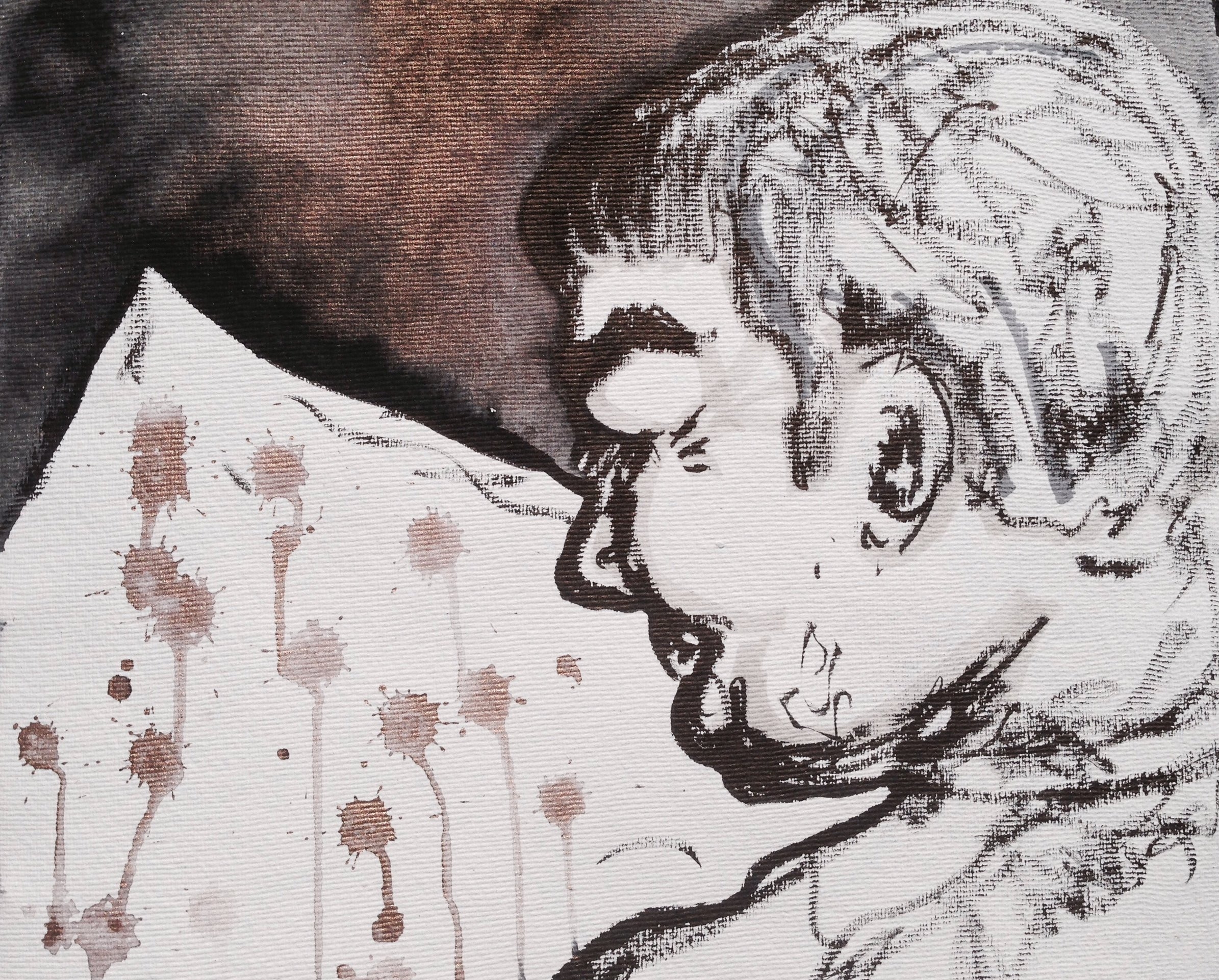 New Page.
Secure Obscurity.
Tea.
Jan.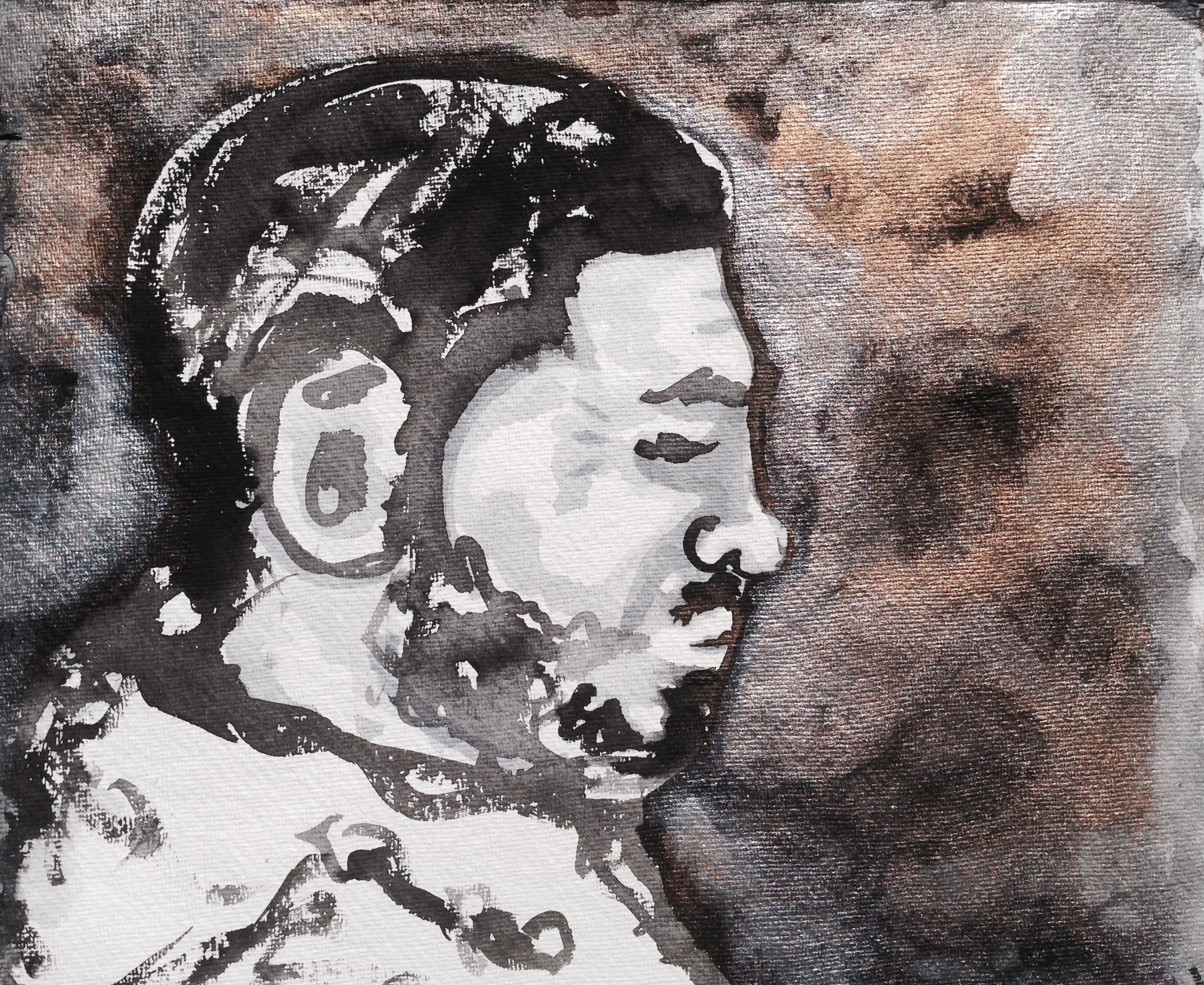 Mus.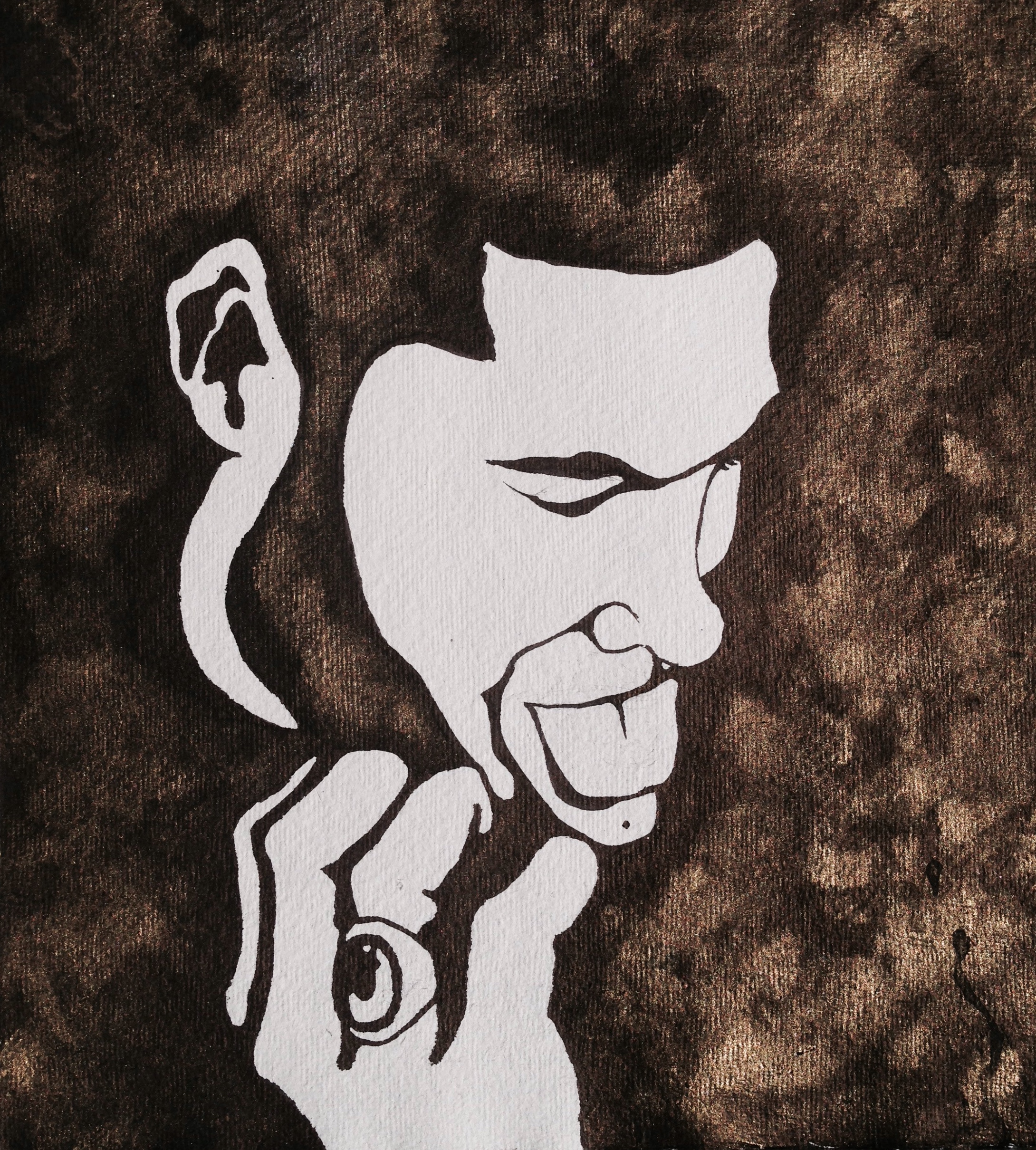 Mos part ii.
Man with cap.
Normal.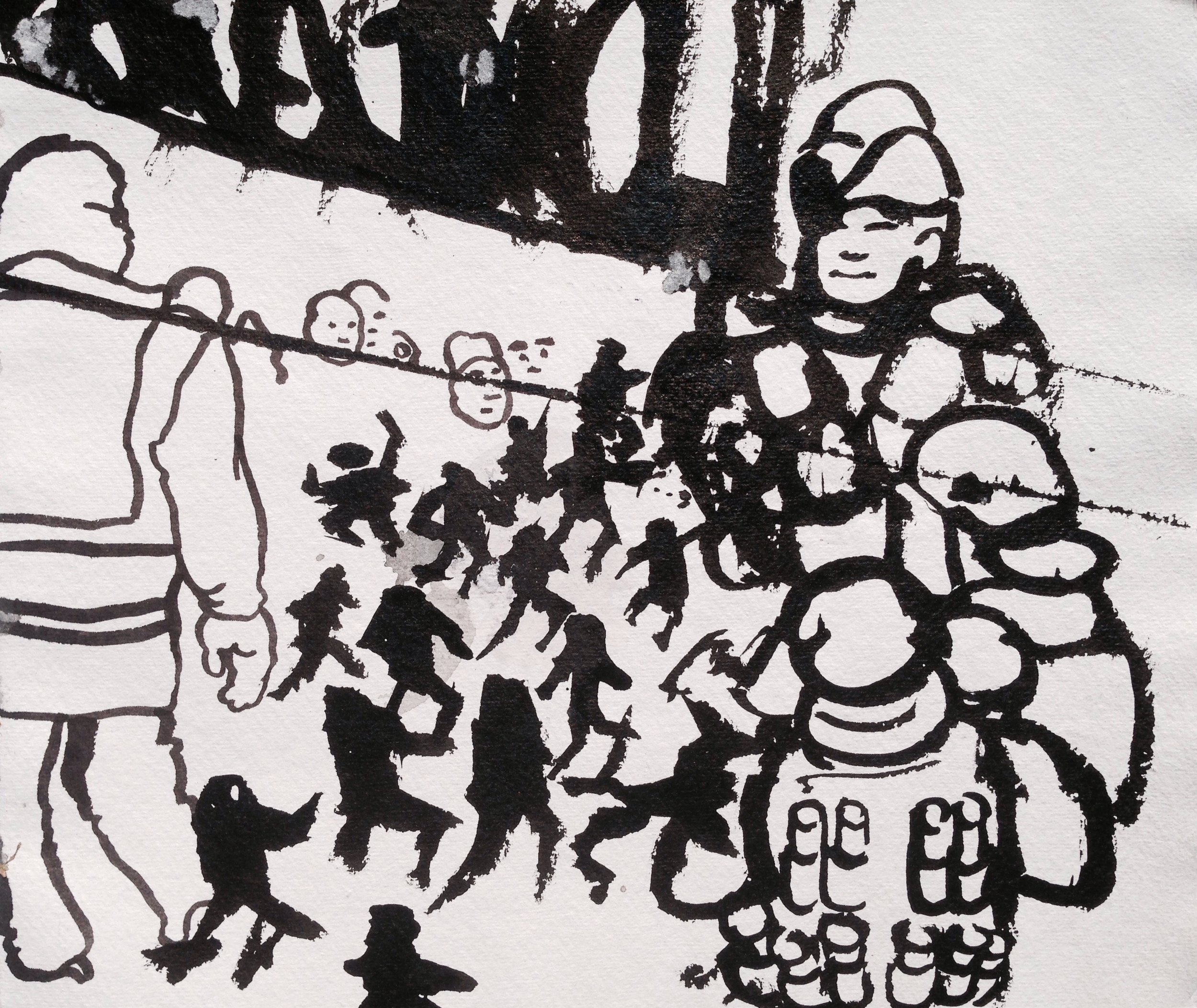 No more apples.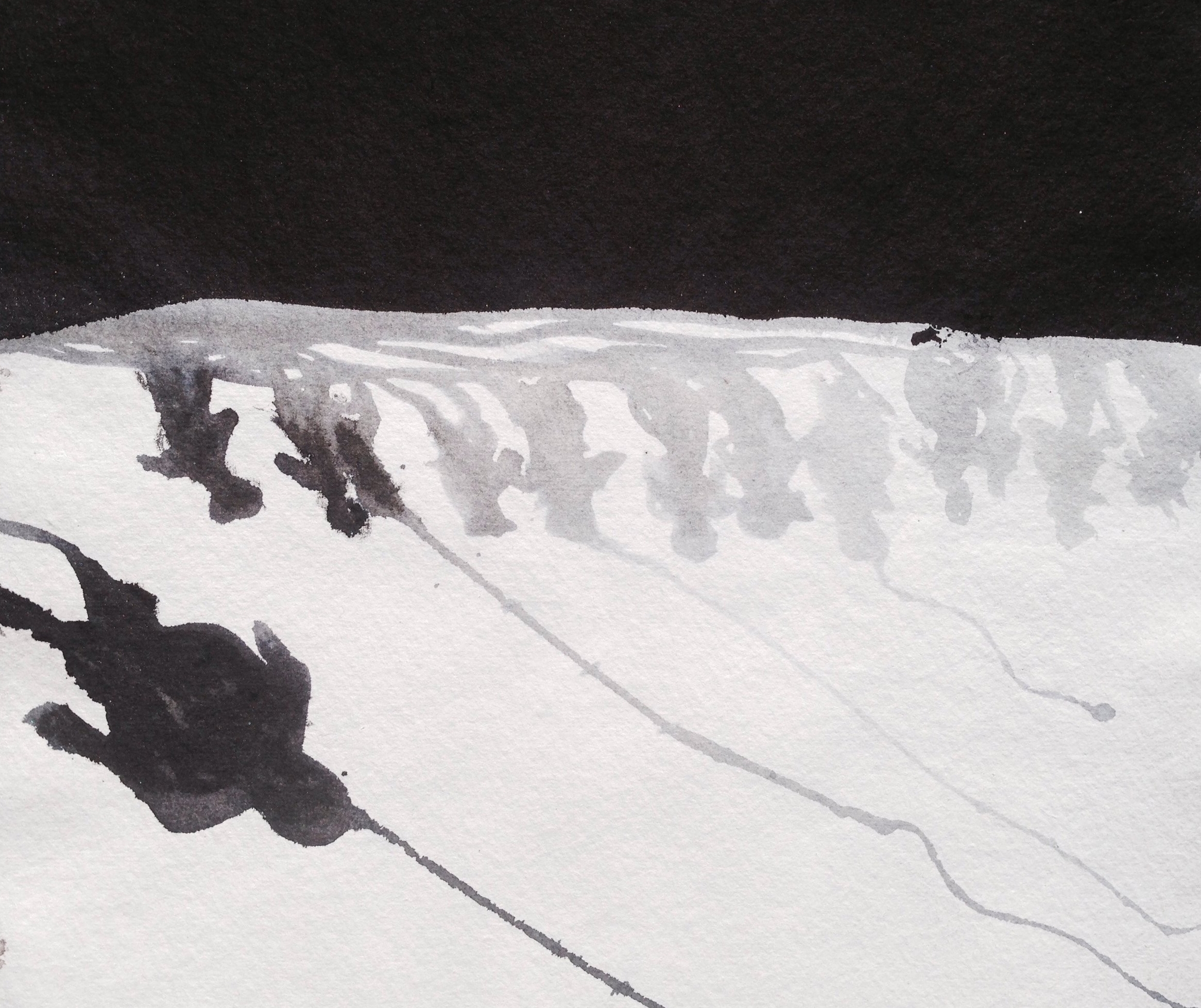 Shadow of a Citizen.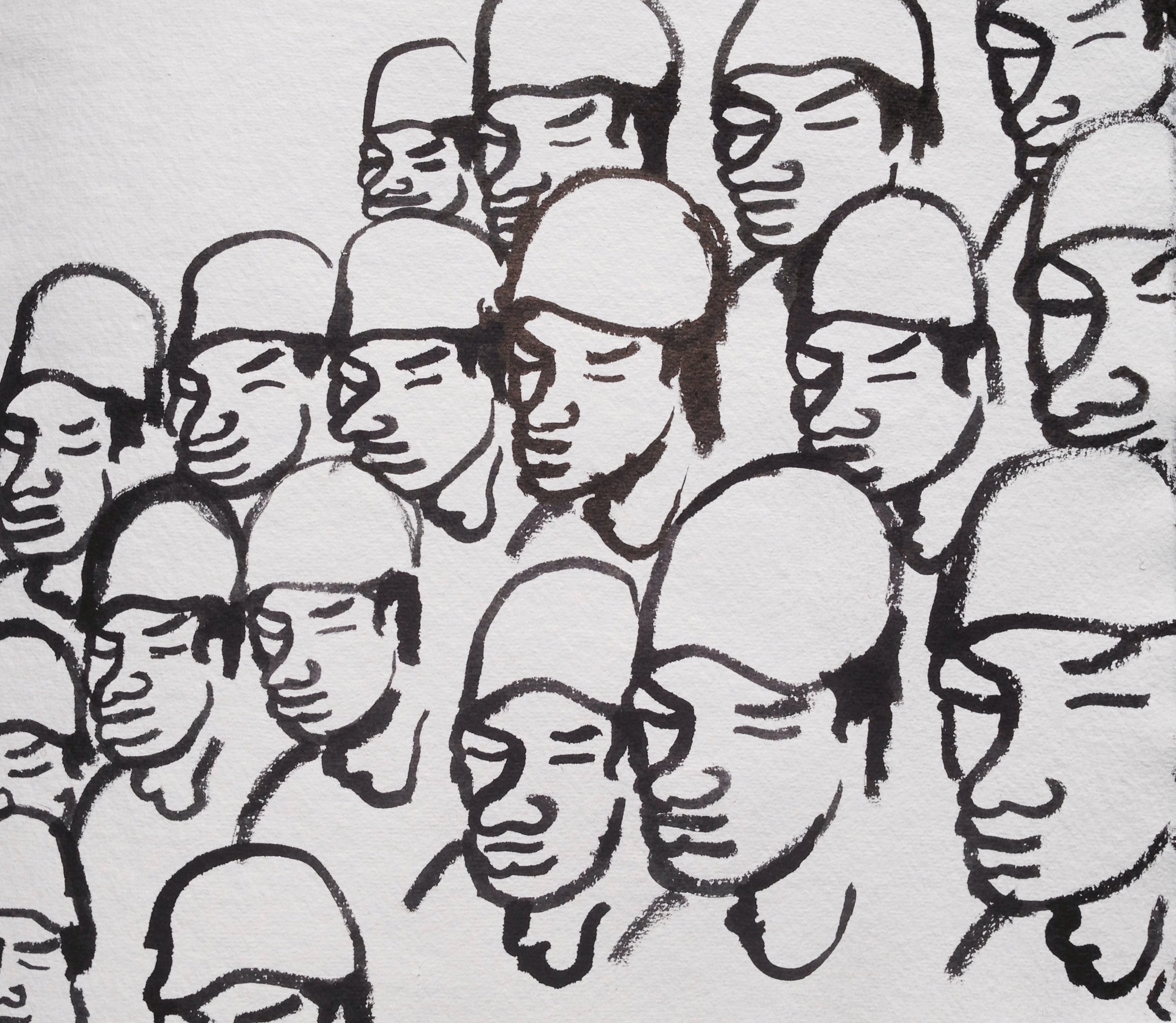 Refugee 0.0
The #IllustratedImmigrants project first began in my sketchbook when I went to the Calais' refugee camp (the Jungle) in May this year. I volunteered in arts workshops, distributing donated clothes and by helping to repair damaged shelters. I also began an arts reportage project wherein I drew everyday moments in the camp as to document the daily lived experiences of asylum seekers who are denied refuge in the UK. It is estimated that there as many as 10,000 people, predominantly from Africa and the Middle East, residing in the camp, which is just 100 miles away from London.A man disappears from view as I attempt to draw him, I manage to capture his face, head and shoulders before he vanishes. Compensating for empty space on the page, I repeat drawing his face, populating the void with characters that look similar on first glimpse but are discernibly unique upon inspection. No refugee, no human, is the same, we should take care not to generalise or demonise each other before taking steps towards understanding.
Refugee 0.0 ii
Displaced people from across the world arrive in the Calais refugee camp, better known as 'the Jungle', with a common interest in safe sanctuary. These people we call refugees are quite simply humans looking for homes.Given its potentially derogatory implications, there is a moral debate surrounding the term 'jungle' to describe people's difficult living standards, however in it's association to the Calais camp, the term is orignially derived from the Pashto phrase 'Dzhangal', which means forest. Homes for humans.Ink on khadi Paper.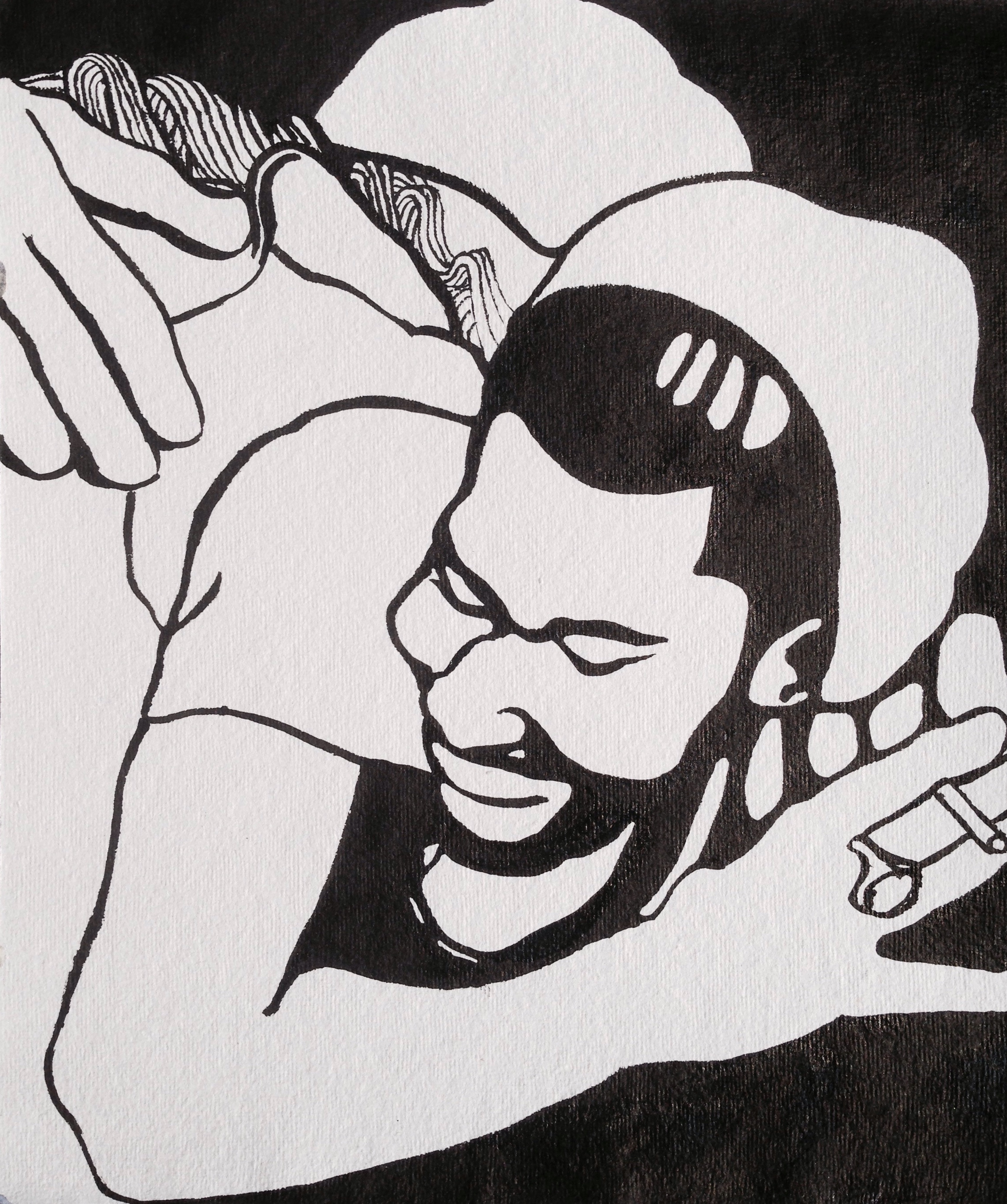 Hugs for humans.
Hugs. In a sense an illegal settlement is an experiment in sustainability, society and survival beyond atypical governance structures. Friends are forged in this most random of melting pots that connects people from different cultures under the banner of human survival. There can be conflict obviously, thousands of people crammed into inadequate space, unable to move freely or go where they want, will find plenty to disagree over but that's no different to anywhere else. The governing authorities have officially decided to close the camp as of this Monday. People will be forced to experiment with new ways to survive.Ink on khadi paper.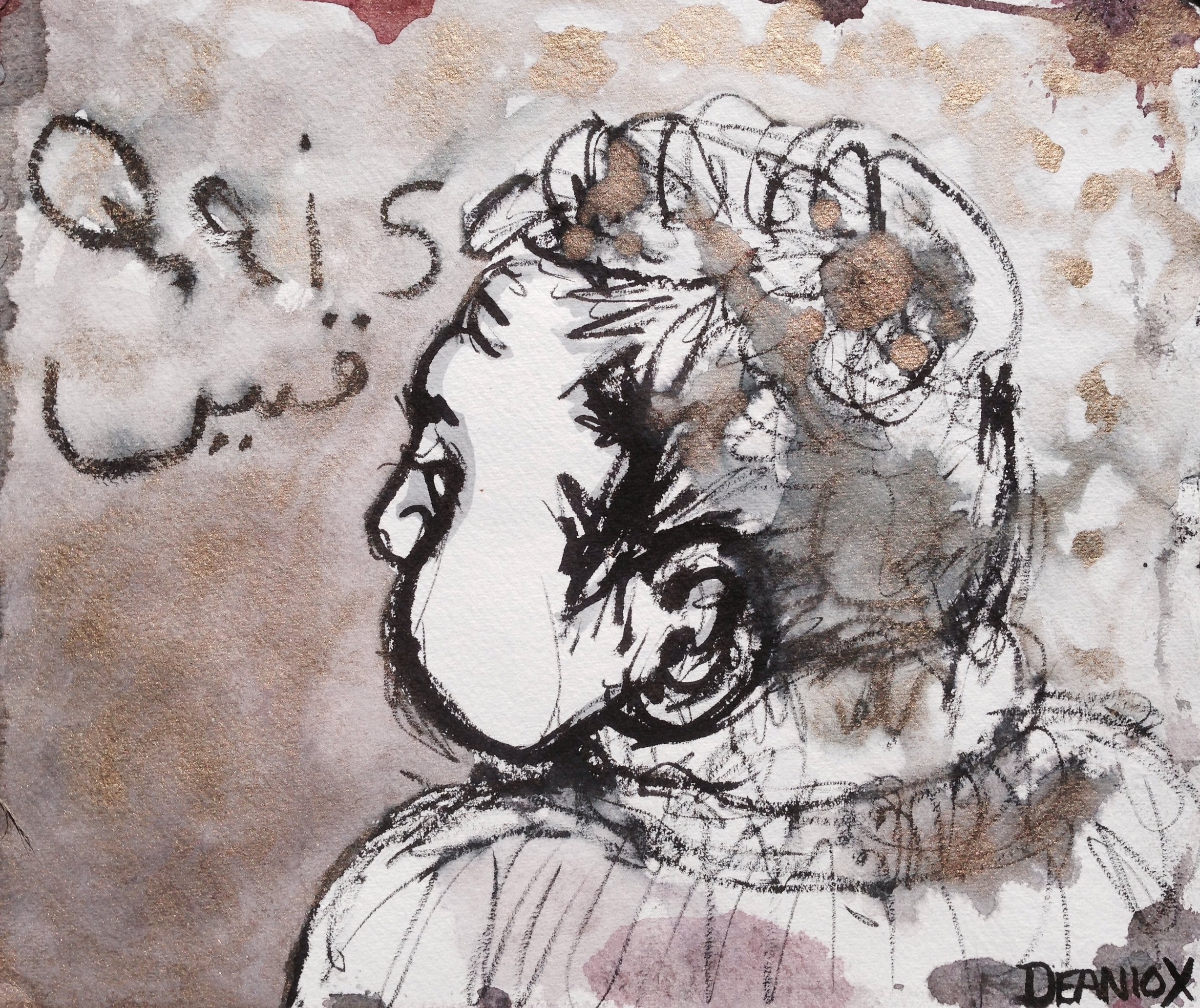 Qais.
#illustratedimmigrants - Qais.Funny man Qais, from Afghanistan, strolls into the arts workshop (a plastic sheet on sandy floor) demanding 'Passports, not pencils!', before taking a seat, dropping a few more jokes and drawing an image of his home in the jungle. In May, on my first visit, I saw how art workshops could provide light relief from the tensions of living in the limbo-like environment of the refugee camp. With the French government threatening imminent closure this month, anxiety now reigns in the Jungle.Ink and watercolour on khadi Paper.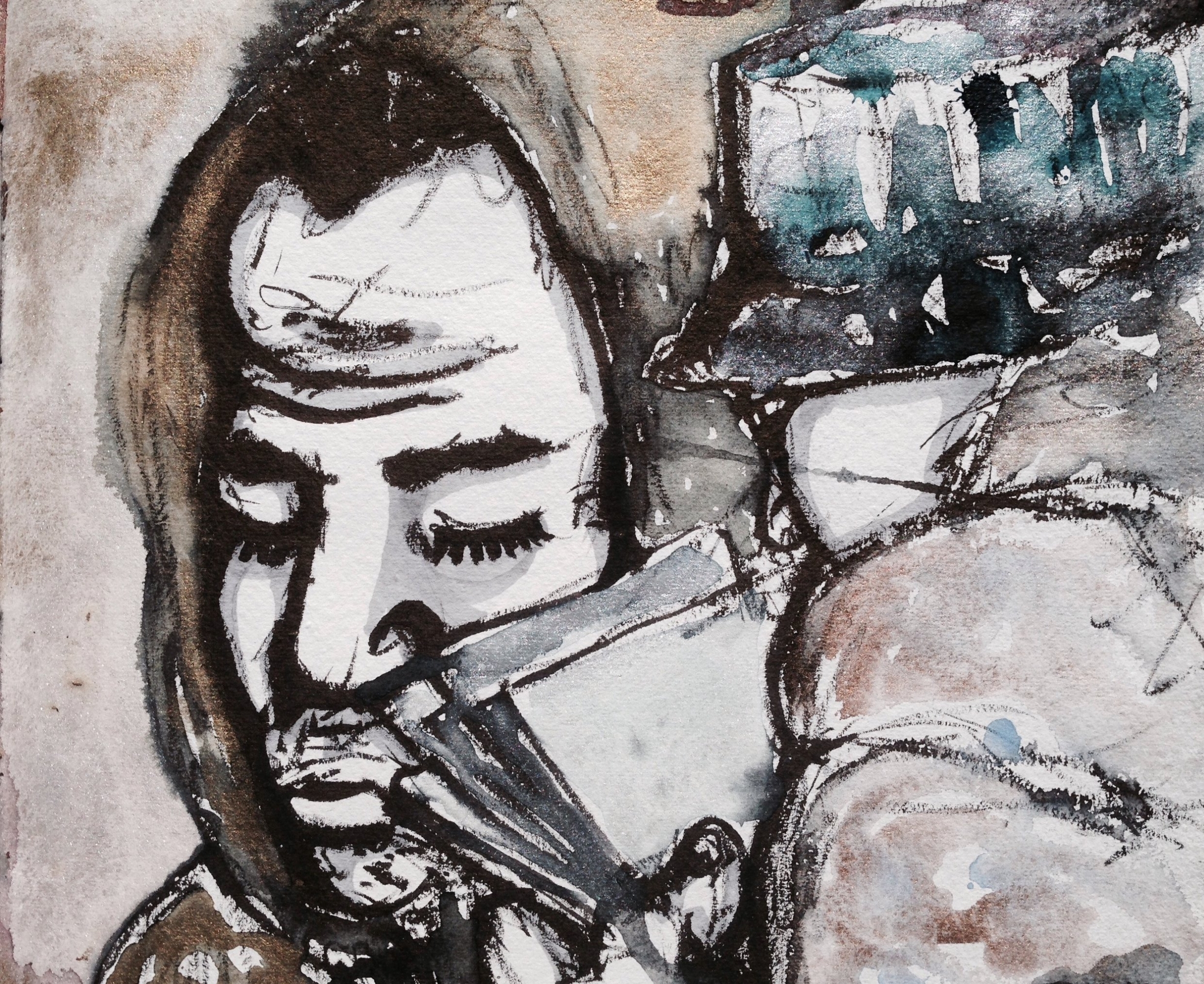 Chattin'.
Chattin'. Two men, one from Sudan and another from Iraq chat amongst themselves during an art workshop. I didn't get to converse with either of them but I watched the Iraqi man make a bracelet with intricacy and patience, whilst the Sudanese man practised his English speaking skills. Ink and Watercolour on Khadi paper.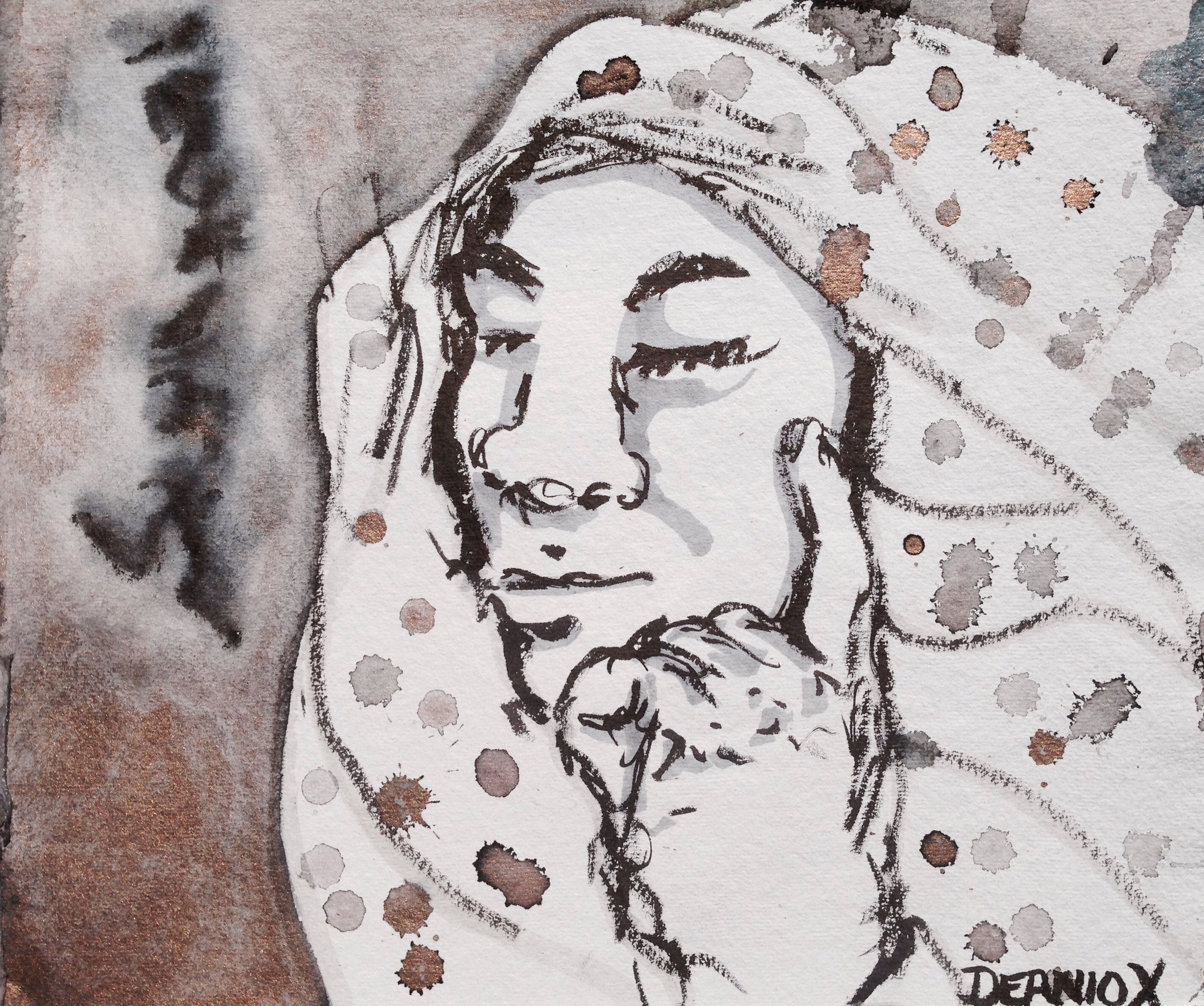 Suleiman.
Suleiman. I remember meeting Suleiman back in May. He sat quietly throughout the art workshop not interacting a great deal. He seemed content to absorb the company and conversation around him. That, or he was just bored out of his mind waiting for Europe to get its shit together. Fast forward to now, with French authorities threatening imminent evictions the mood in the camp is increasingly tense. Understandably, art workshops have gone out the window in favour of the distribution of urgent provisions such as shoes, boots and waterproof jackets. People don't know where they will go if they are forcefully evicted.Ink and water colour on khadi paper.
Man with melted hut.
We helped this man rebuild his home in the camp after a bastard of a fire burnt it to pieces. The wooden beams and plastic tarp securing his roof were damaged irreparably so we, a team of refugees and volunteers, made some new supports and stapled on a fresh covering. 2 hammers broke in the process, which is especially shitty in a refugee camp where DIY shops are obviously not a thing. Homes for humans.Ink, acrylic and watercolour on khadi Paper.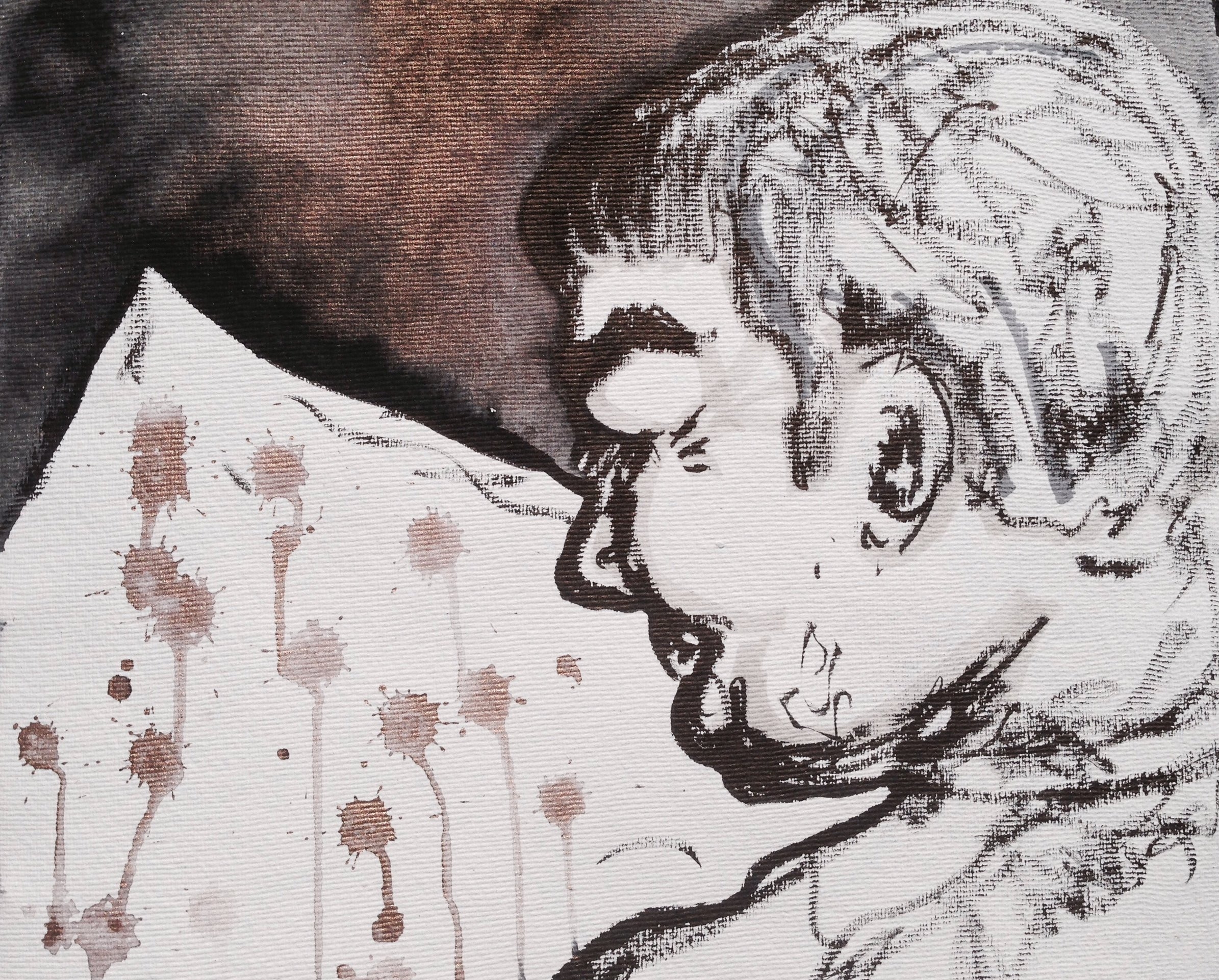 New Page.
A man contemplates drawing something in the arts workshop back in May. He stares at the page for a while then begins. The workshops function as a social engagement activity, whereby people are able to create, chat, observe and ventilate, all in the company of others. In a place where tension sees little relief, art can provide a much needed breathing space.Currently though, in the run up to forced evictions this coming Monday, tension simmers ceaselessly. Police be will be here with rubber bullets, real bullets, guns, tear gas, armour, vehicles etc. People seeking refuge will be here with their bodies.Watercolour on khadi paper.
Secure Obscurity.
Photographing people in the Jungle absent of their explicit permission is offensive. Authorities have used images of refugees, shared on social and traditional media to deny their claims to legal asylum. Remaining obscure is therefore tantamount to remaining secure.Anonymity then is a gift and a curse in the context of a refugee. When we discuss humans without using their names or using generalised labels, empathy becomes more difficult; we are likely to fill in the gaps with our misconceptions or prejudices, which in our society, already too fat on the tabloids' gelatinous dribblings of bullshit, can prove pretty damn dangerous.Homes for humans.Ink and watercolour on khadi Paper.
Tea.
I sketched this man whilst we shared Chai tea in The Three idiots, a camp restaurant and community hub. That was in May, it has since been closed by police. The reasons given for closure were grounded (supposedly) in the fact that the restaurant was operating without a food hygiene license.Seems a little fishy though, given that nothing in an illegal settlement could operate legally. Certainly there was a feeling that the police were shutting down peoples' access to food and community space, ultimately pressuring people to leave the jungle.Homes for humans.Ink and watercolour on khadi paper.
Jan.
With his glasses, Jan had the look of an accountant, he might've been once but in the camp he was just all an all-round nice guy, always armed with a smile and a steady handshake. Understandably people by and large do not want their futures to be haunted by photos that invoke memories of such a painful and unknown time. Art offers a way to bridge the gap by communicating real peoples' experiences without compromising their identities.Homes for humans.Ink and watercolour on khadi Paper.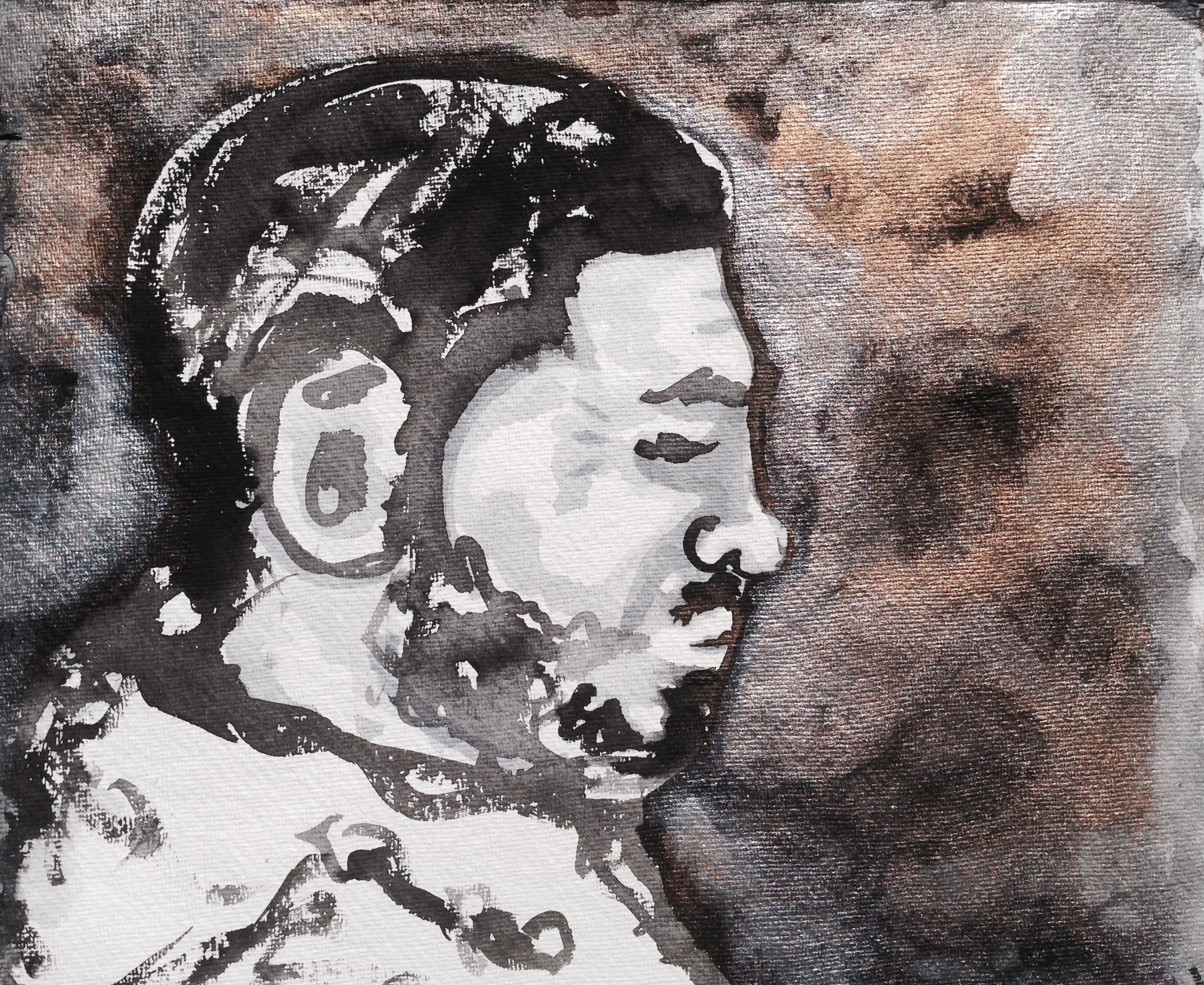 Mus.
Mus, speaks English, French, German and more than a few dialects of Arabic.I saw him mediate with and guide people in the camp to a safe sleeping zone after a fire ravaged their tents and shelters. If this man in his early 20s was a citizen in a nation he wasn't forced to leave, there would be no limits to his potential.Homes for humans.Ink and watercolour on khadi Paper.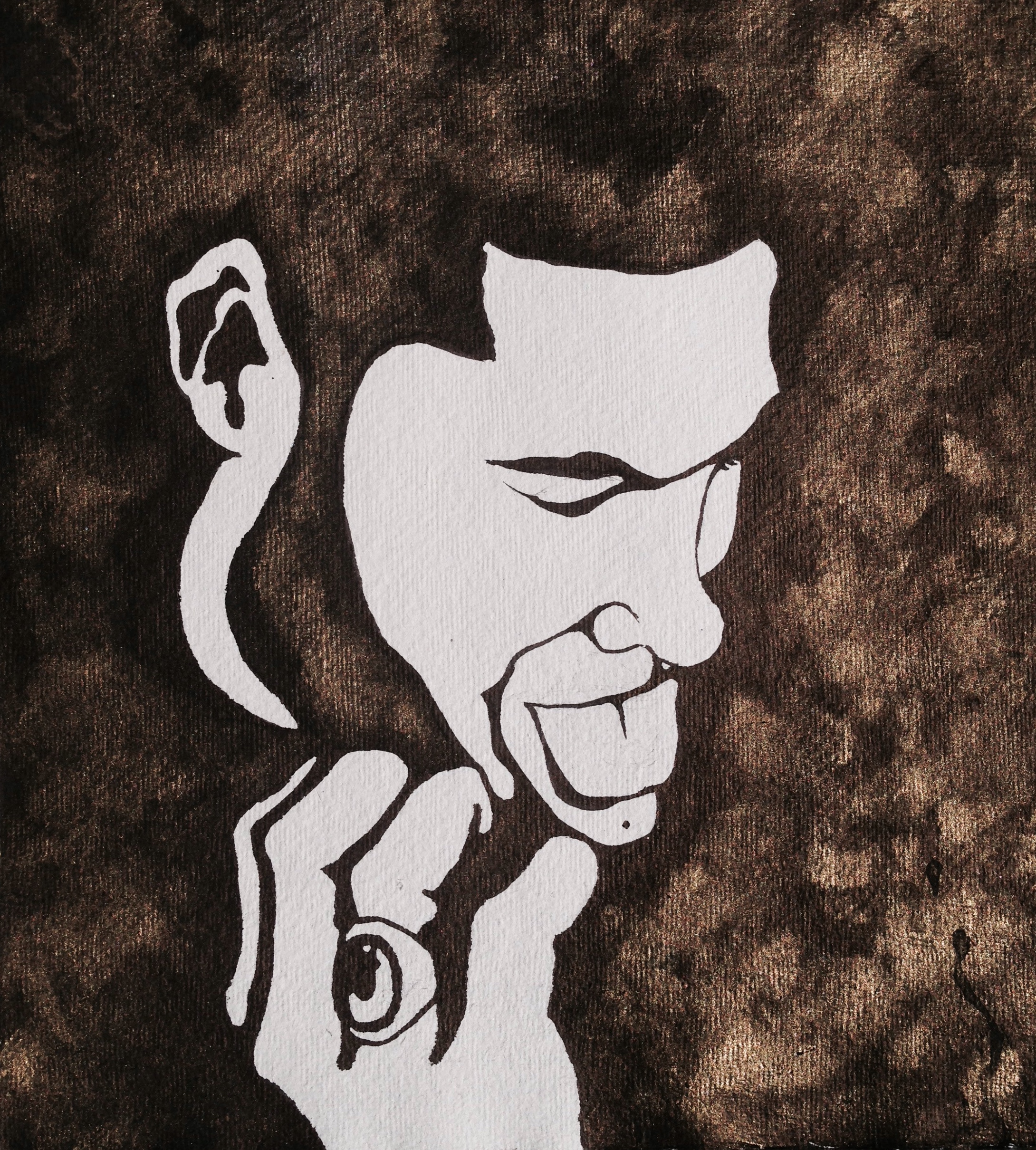 Mos part ii.
Once we had repaired our friend's melted roof, Mos and I had a minute's peace to talk shit, smoke a jungle cigarette or two and eat some Sudanese food cooked by the neighbours in the adjacent hut. Homes for humans.Ink and watercolour on khadi Paper. 
Man with cap.
Man with cap. He had a cap on, I sketched him. That was it really. Believe it or not, the jungle isn't actually a jungle, which means people being people have their regular share of mundane moments. Homes for humans.Ink and watercolour on khadi Paper.
Normal.
Morning following the fire - men repairing shelters and homes. The evening after the fire - people gathered to watch Captain America Civil War on flat screen TV in the white mountain restaurant (since shutdown by police). Homes for humans.Ink and watercolour on khadi Paper.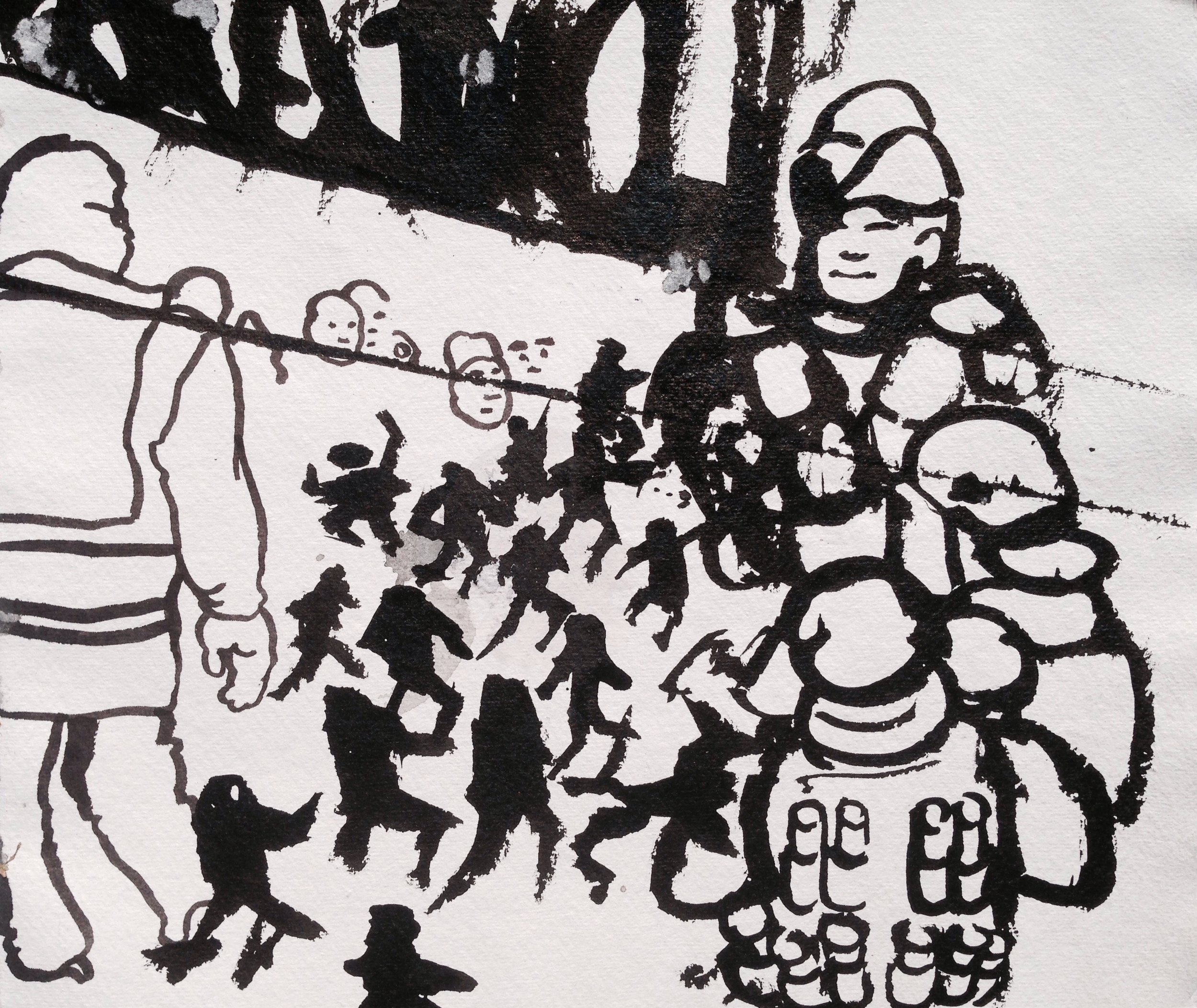 No more apples.
No More Apples. They say that the smell of apples is an indicator that tear gas has been dispensed nearby. Police use tear gas disorient and disperse refugees at whim.Ink on Khadi paper.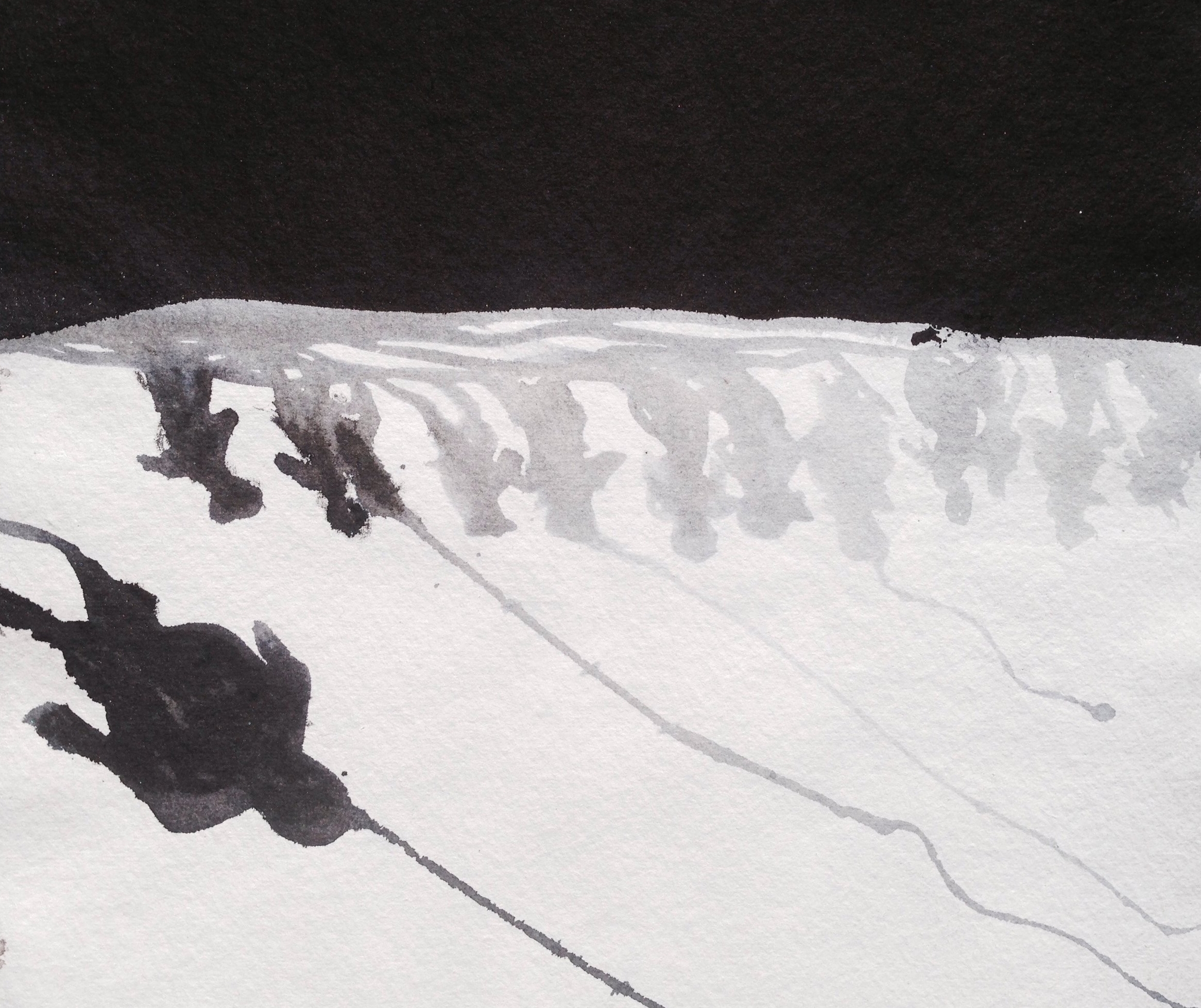 Shadow of a Citizen.
Refugees do not have access to the safety net of nationality nor citizenship. This means there is no instituion that bears the responsibility of protecting or preserving their rights. Perhaps this knowledge, fuels the sense of camaraderie that is so readily observable in the camp.
1
2
3
4
5
6
7
8
9
10
11
12
13
14
15
16
17
·
·
·
·
·
·
·
·
·
·
·
·
·
·
·
·
·