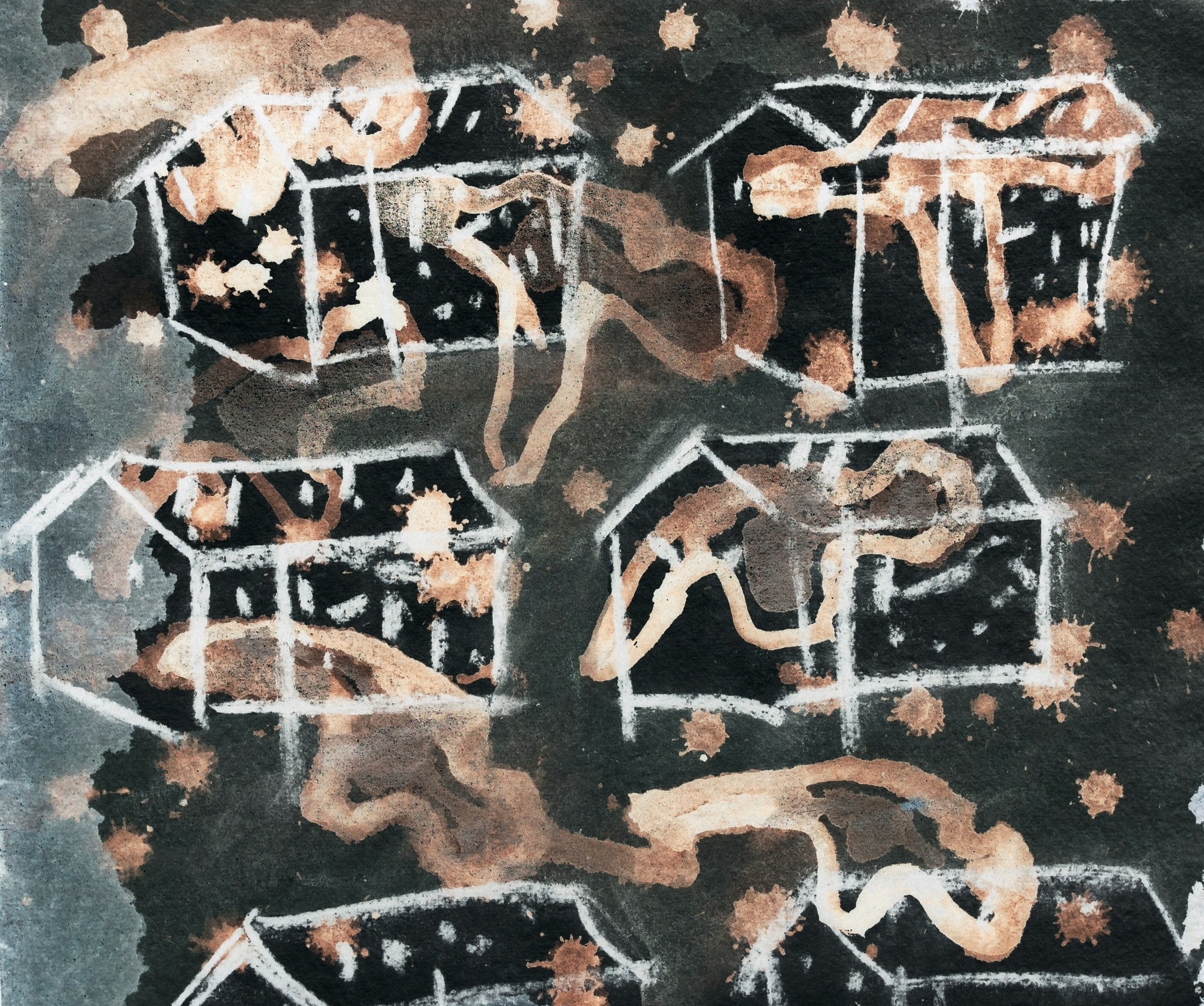 Labour.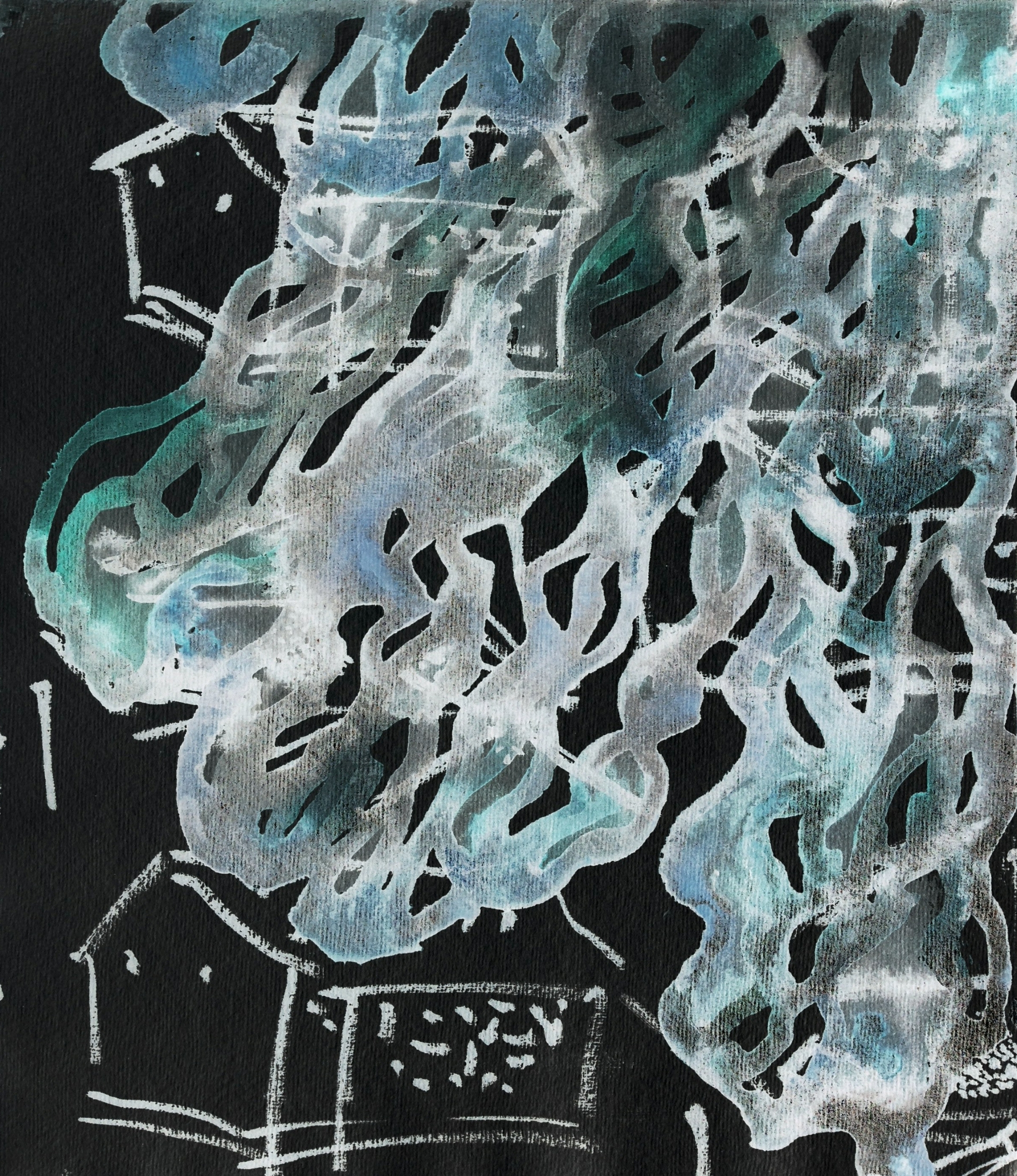 Burn.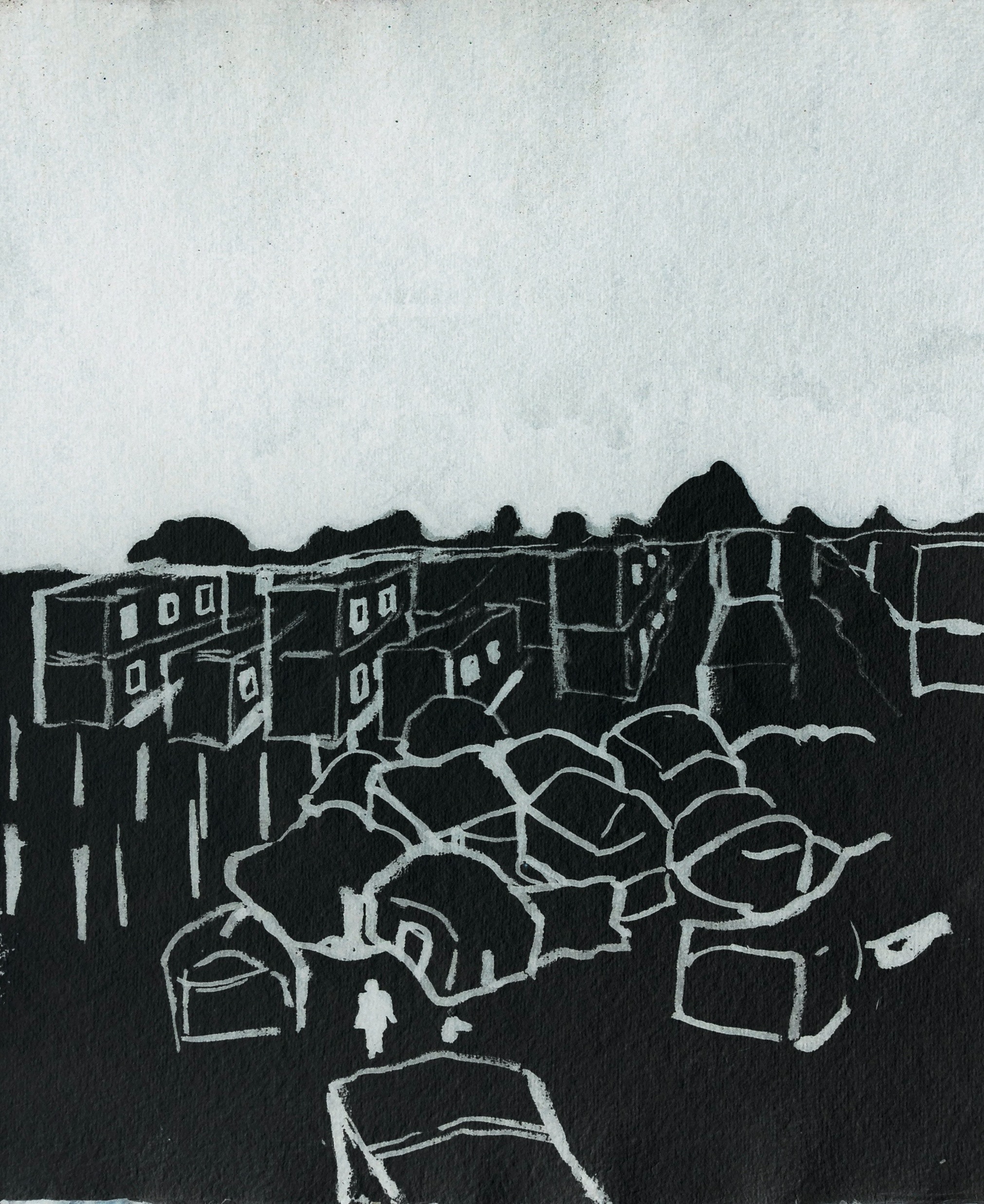 Homes.
Shadow Print.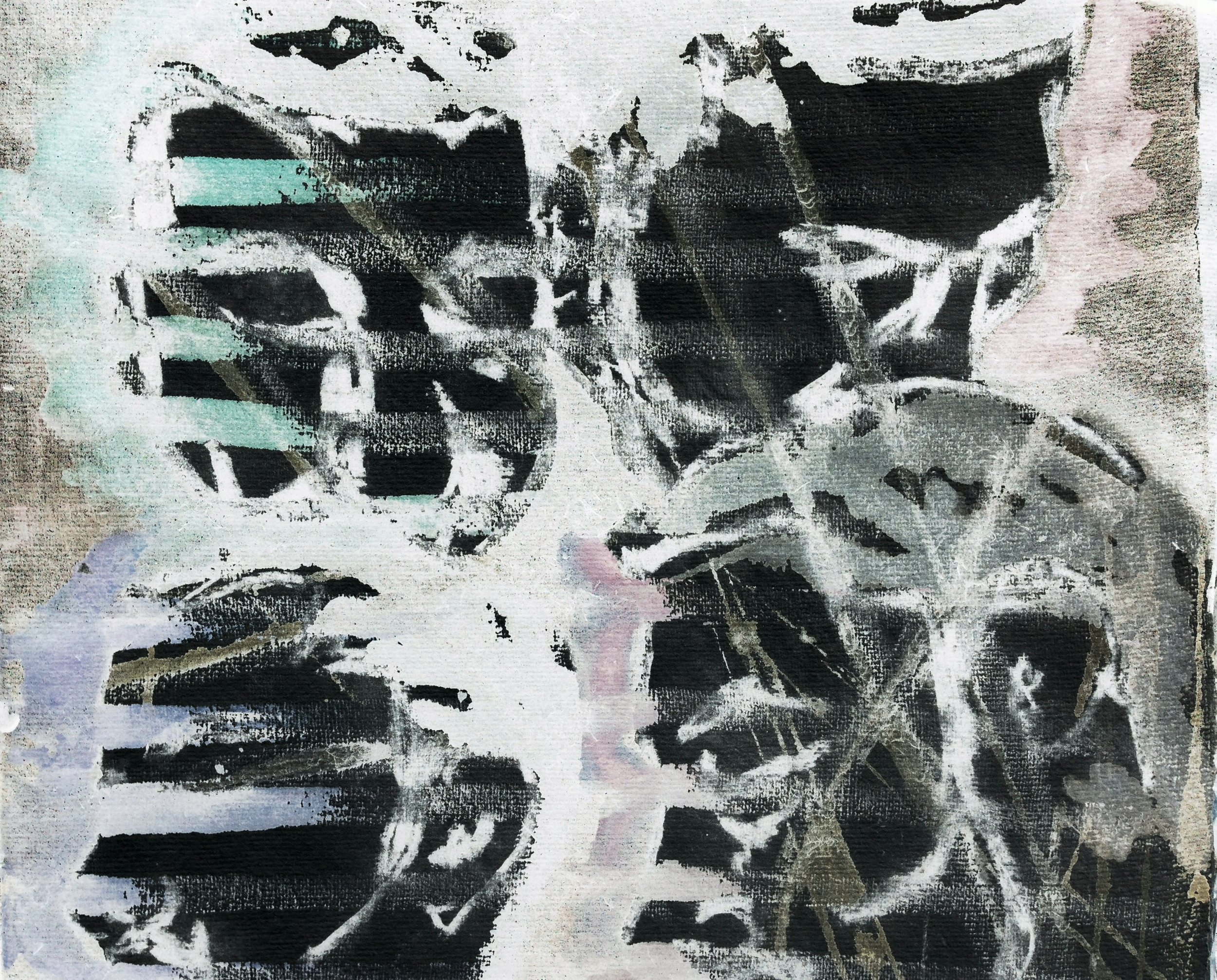 Smear ii.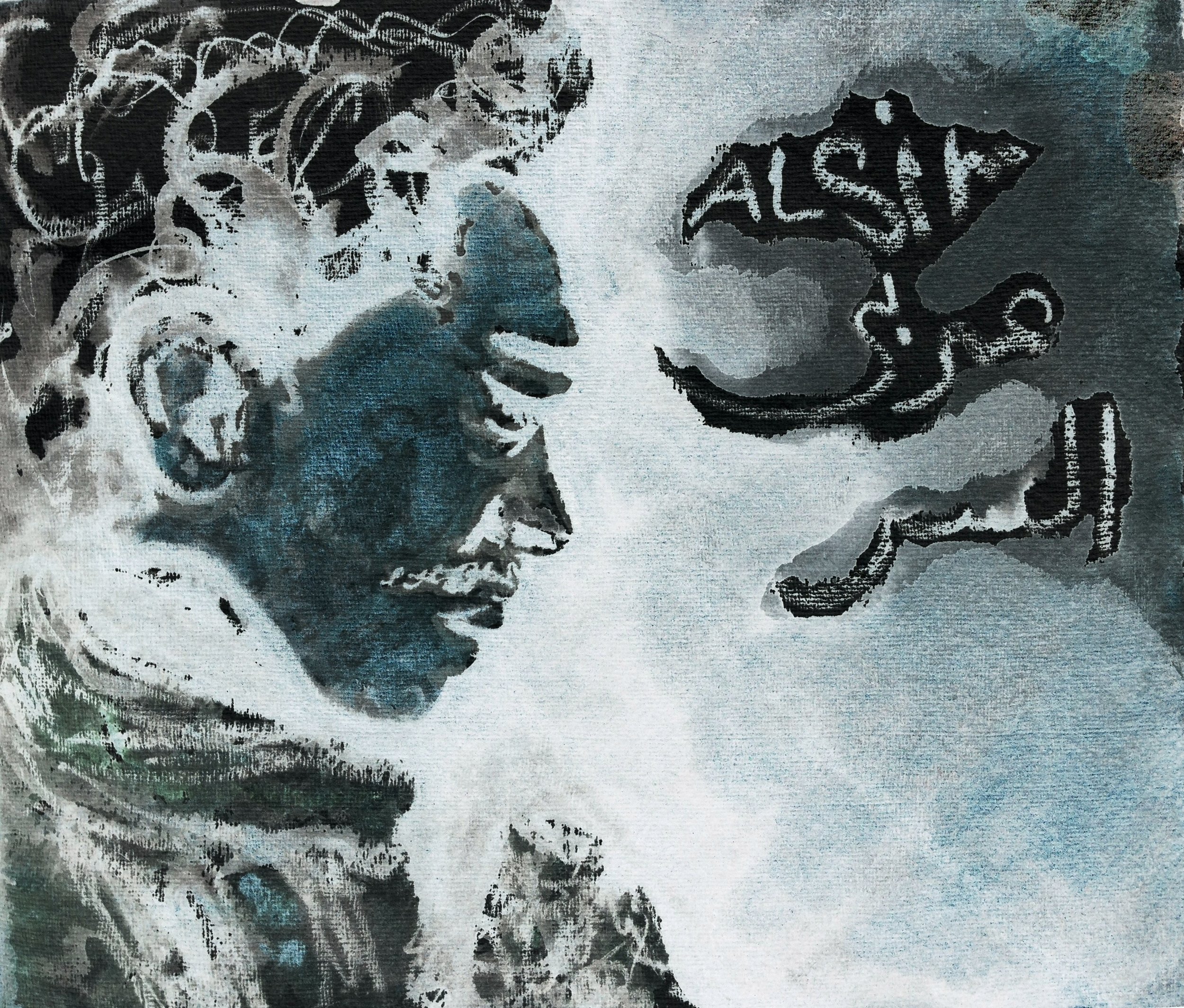 The Secret.
Present.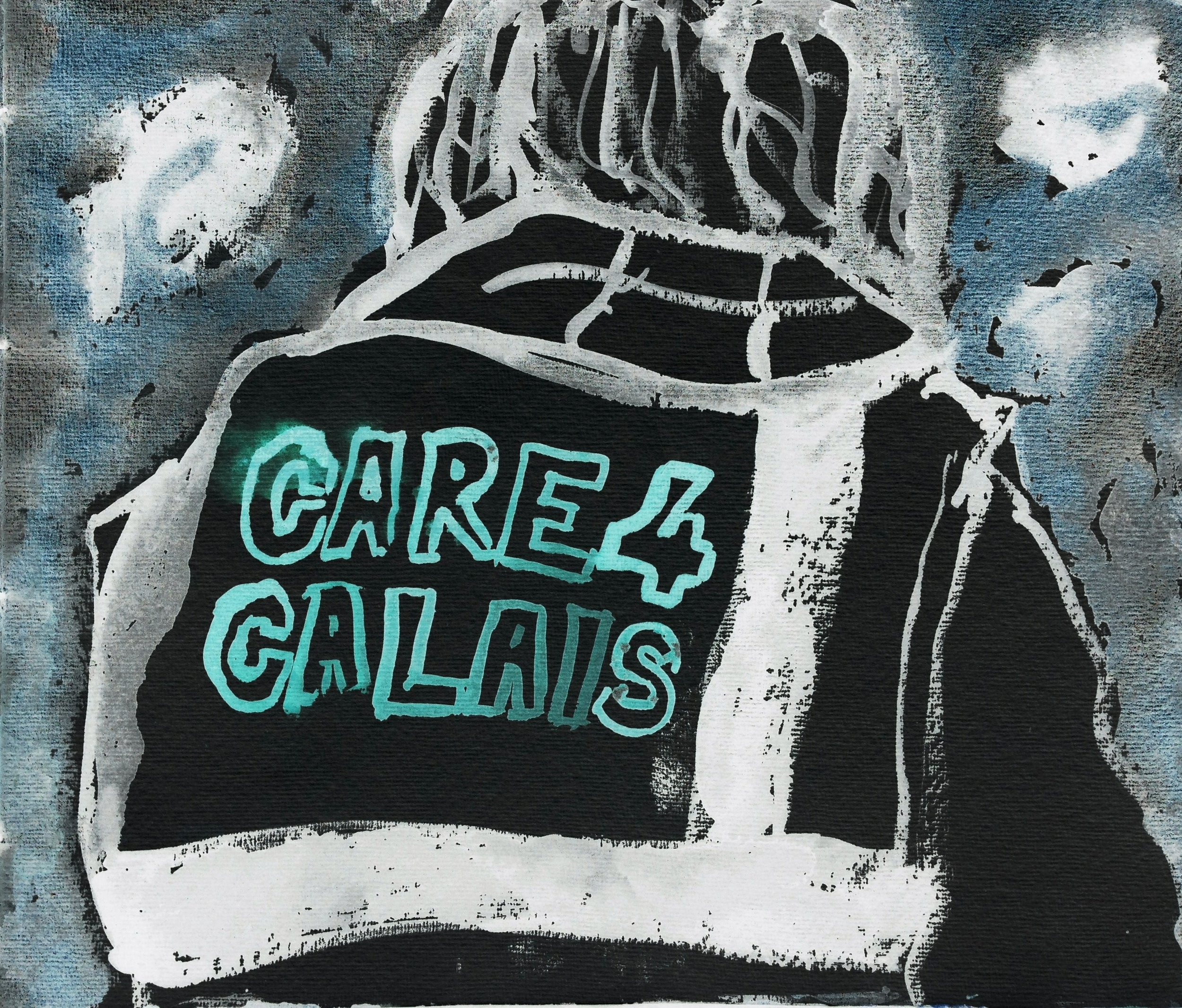 Volunteer.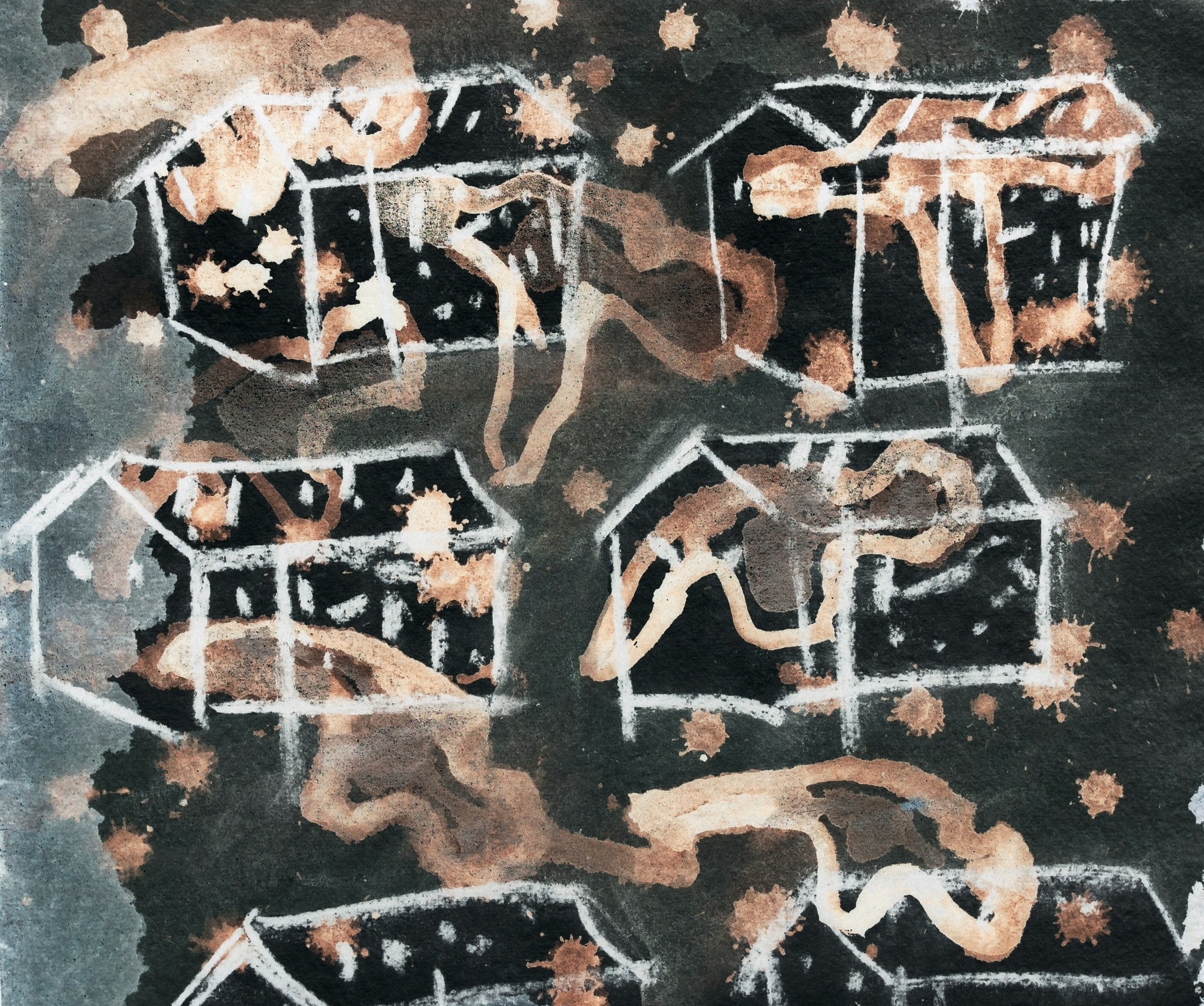 Labour.
National borders in the middle east and Africa have largely been devised by European colonial trade strategies. The global poor are essentially the exploited labour force of a system that priorities the advancement of european/western interests at the expense of all else. Most refugees today are the living legacy of European imperial and colonial greed which is as strong today as it ever was. Just saying.Homes for humans.Ink, watercolour, digital.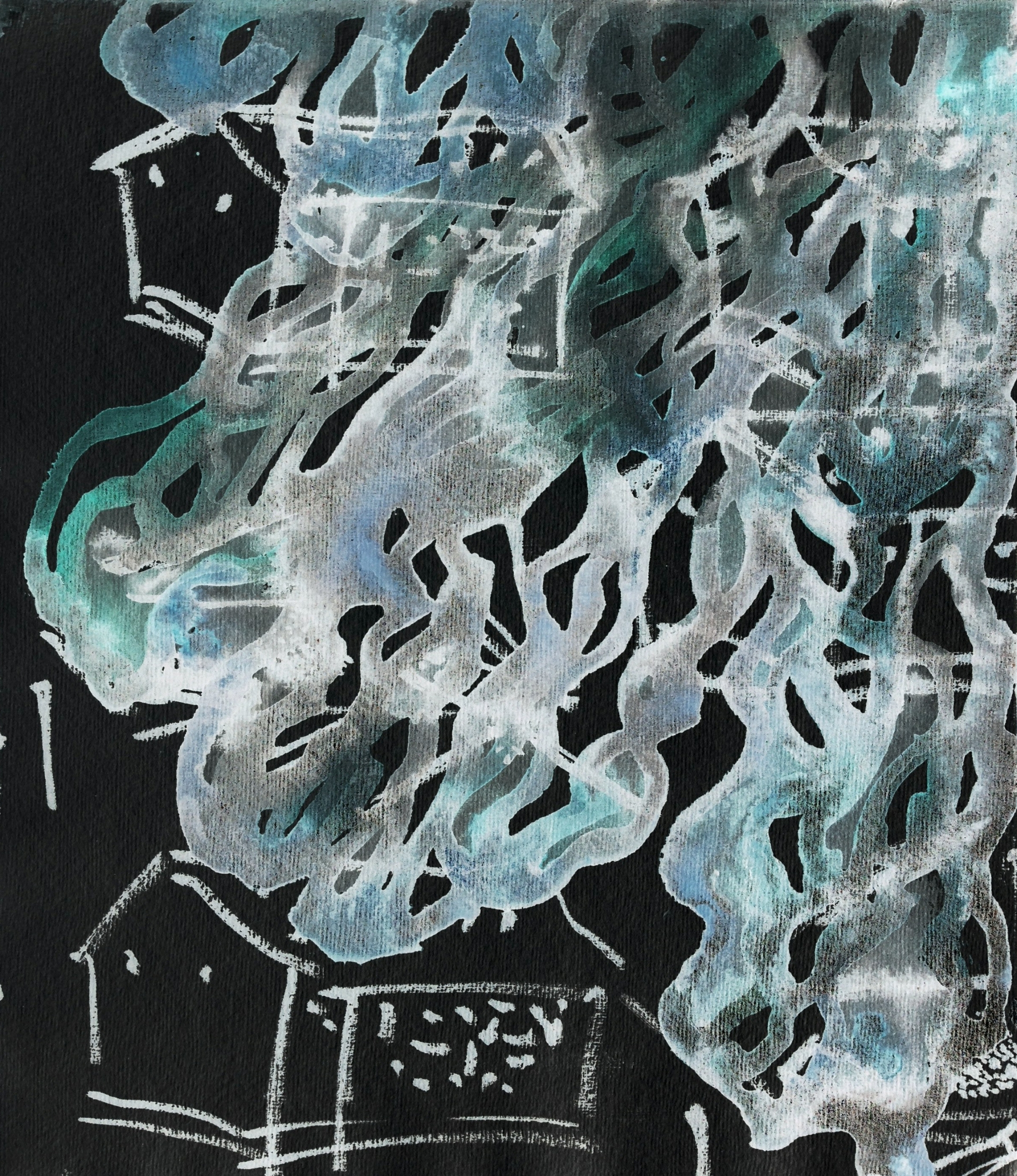 Burn.
Burn. As the Jungle closes, fires light up the nights. Mostly the fires keep cold people warm, also serving as social bases for dancing and conversation. Some are lit in frustration. It's constant battle to monitor and extinguish flames before they can spread to lived-in shelters and other vulnerable structures. Demolition, orchestrated by French authorities was supposed to begin today, it hasn't as yet. Likely it will start early tomorrow morning while people are disoriented by necessary sleep.Ink, watercolour, digital.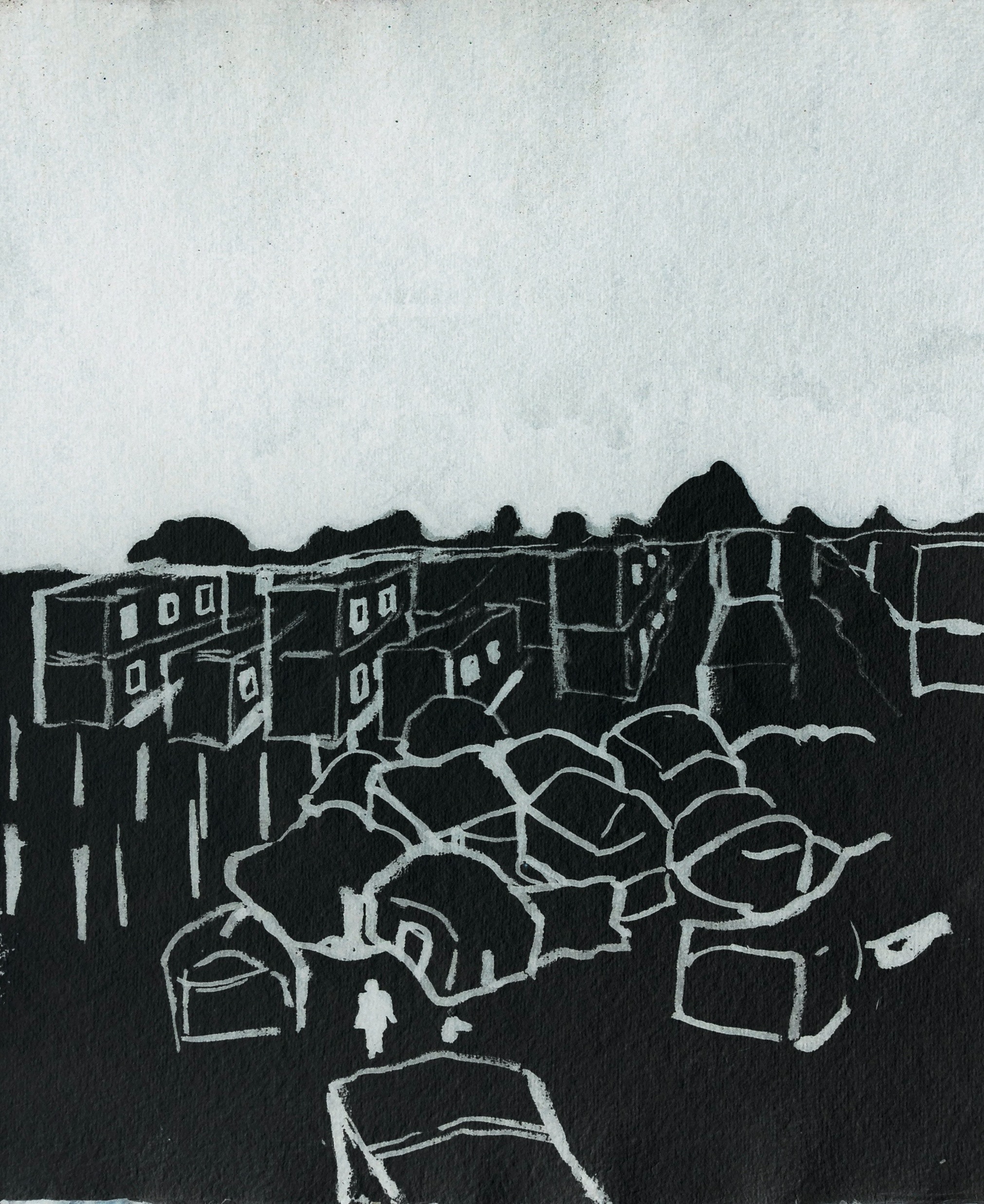 Homes.
This is an illustrated view of the Calais jungle from the sand dune, the tallest point at the settlement's centre. The boxes in the background are shipping containers that have been converted to accommodate refugees. The sterile aesthetics of the containers denote the attitude of British and French governments towards refugees, it is difficult to refute the suggestion that the people within are unwanted cargo. Following evictions, which will supposedly conclude today, the containers will deployed to accommodate children or bambinos, exclusively.Ink on Khadi Paper,
Shadow Print.
Like any deserted home or community, the imprint of the jungle will continue to exist in the psychologies of all those that were touched by it. With bodies dispersed, I wonder how soon Europe and the rest of the world will allow themselves to forget the about the displaced on our doorsteps. Ink and watercolour on Khadi paper.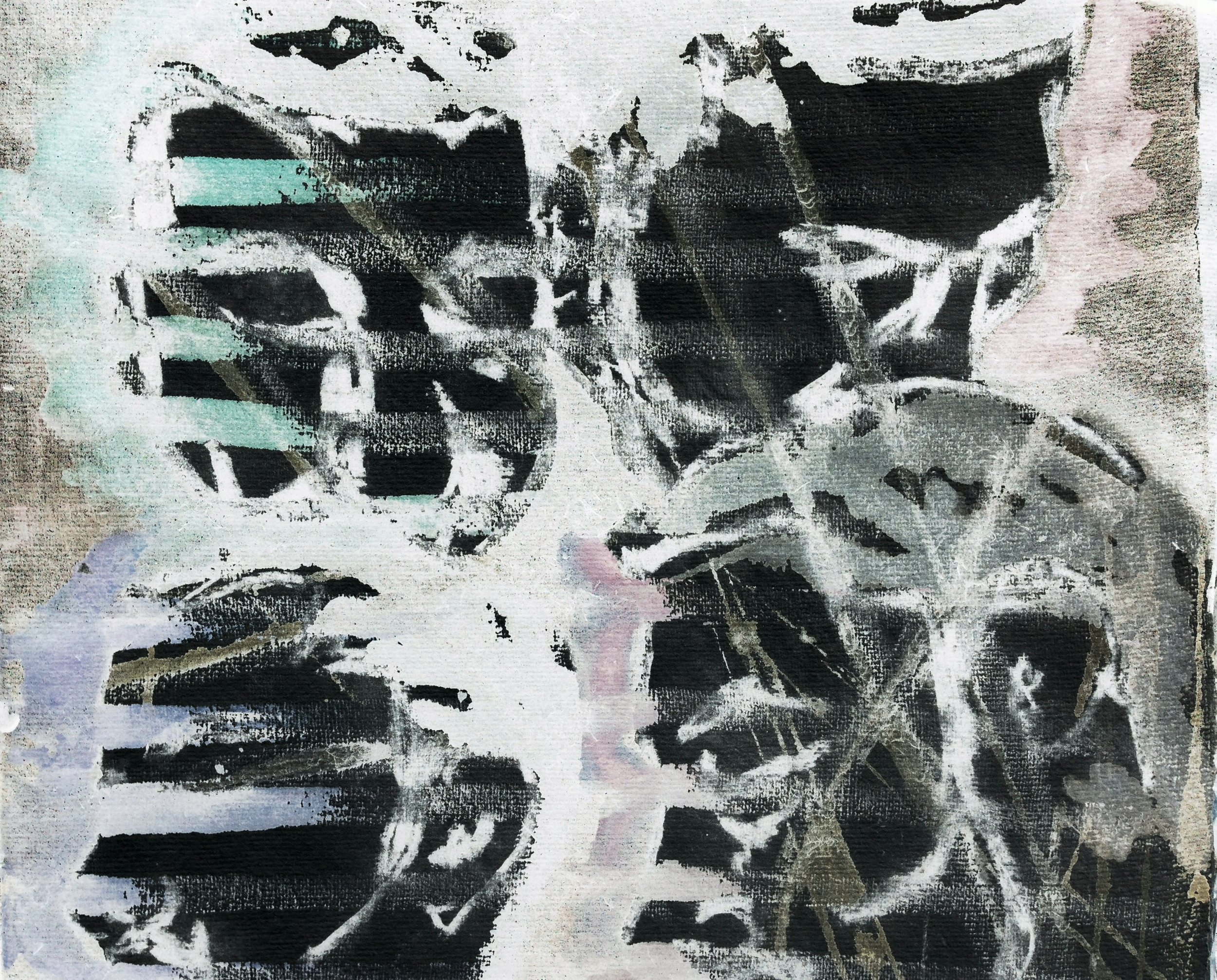 Smear ii.
A man told me I could draw him but only if I smudged the face.Photographs of refugees in the jungle, often well meaning, have been used by government agencies to reject applications for asylum. Ink and chalk on Khadi paper.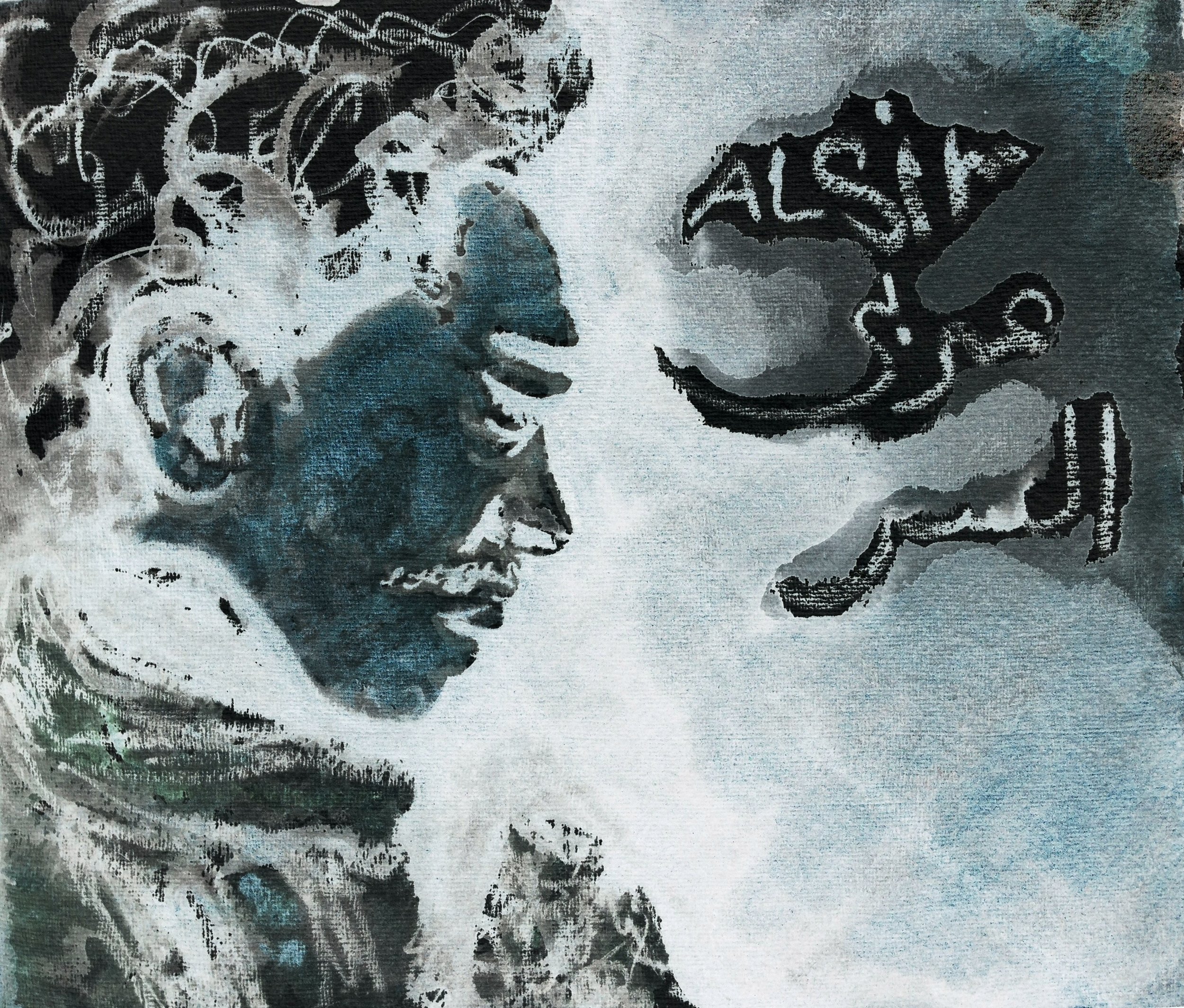 The Secret.
I illustrated this man from Sudan during an arts workshop in May. I asked him to write his name on my work as other people had done. He would write 'Alsir', which means secret in Arabic.Our identities are sacred.Ink and watercolour in Khadija paper.
Present.
I observed very few female refugees in the camp. I understand that separate accommodation is offered to women, which speaks to why their presence is less visible as you navigate the area. I managed to draw this lady during an art workshop. She was making a bracelet which was inspired by the colours of the Iraq flag. Her flag. She was happy to be drawn, giving me a hug once I showed her the piece. She signed the work too. Homes for humans.Ink, watercolour, digital.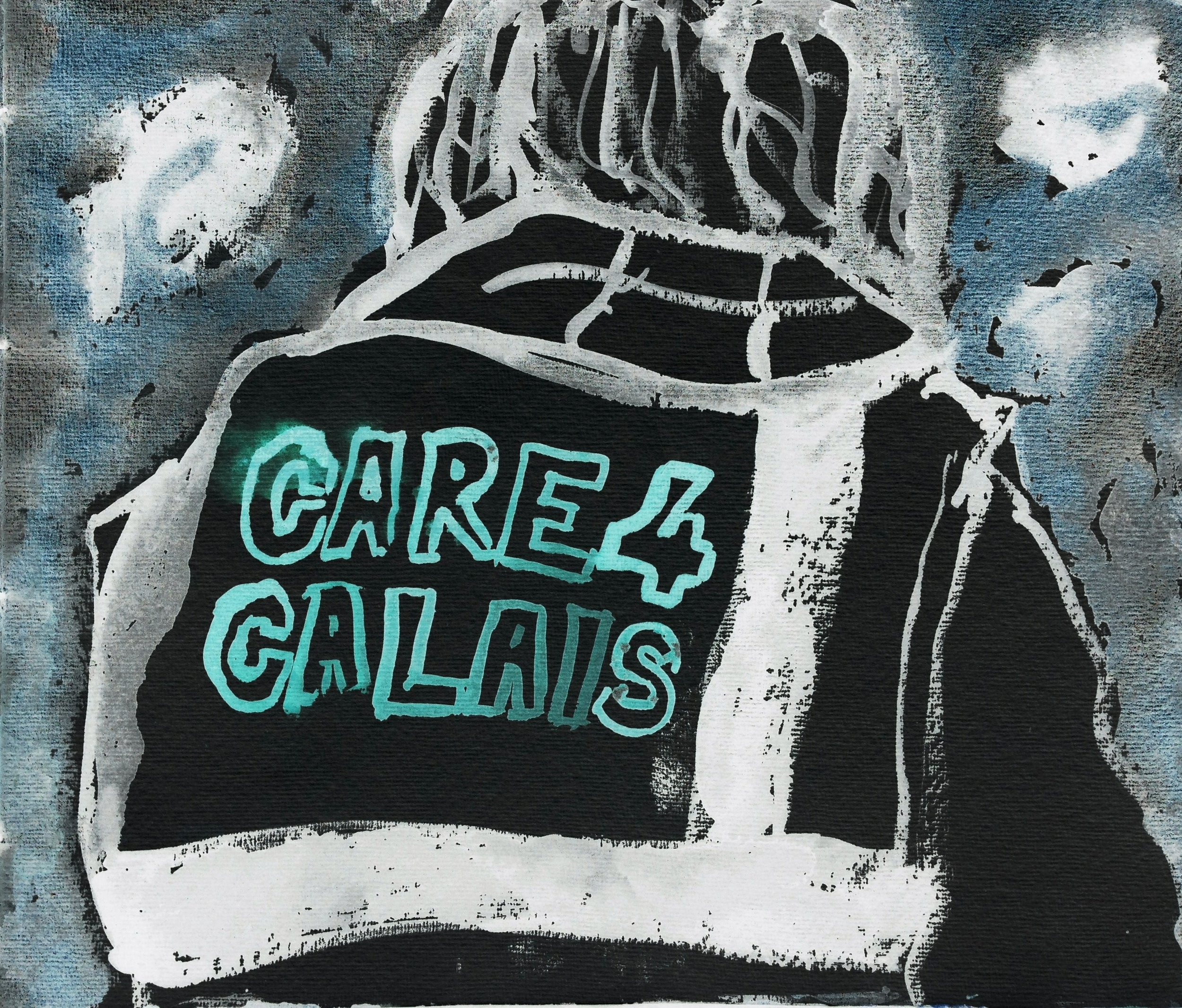 Volunteer.
Volunteering is weird. You are forced to acknowledge the associated advantages and disadvantages that humans reap in virtue of their different racial, cultural and geographic backgrounds. As a volunteer you can contribute labor, comfort and conversation to assist people who have been forced into a shitty situation not of their own design. As a volunteer though, you are able to go home, as a refugee you are not. It is confronting to measure your own access to freedom to that of others, especially when the person sitting next to you has much less to speak of. Homes for humans.Ink, watercolour, digital.